The Foundation for Fraternal Excellence Awards of Distinction provide the fraternal foundation community an annual opportunity to recognize organizations excelling and innovating in a particular area. Fraternal foundations are often known as the "heart" of our organizations and provide financial support to a variety of philanthropic causes as well as their collegiate and alumni members/local communities. It is an important responsibility of the FFE to recognize this critical role fraternal foundations play and the excellent work produced by our organizations. We also strive to recognize the accomplishments, contributions and influence of the individual men and women who have made a difference in interfraternal fundraising and without whom our industry would not be what it is today.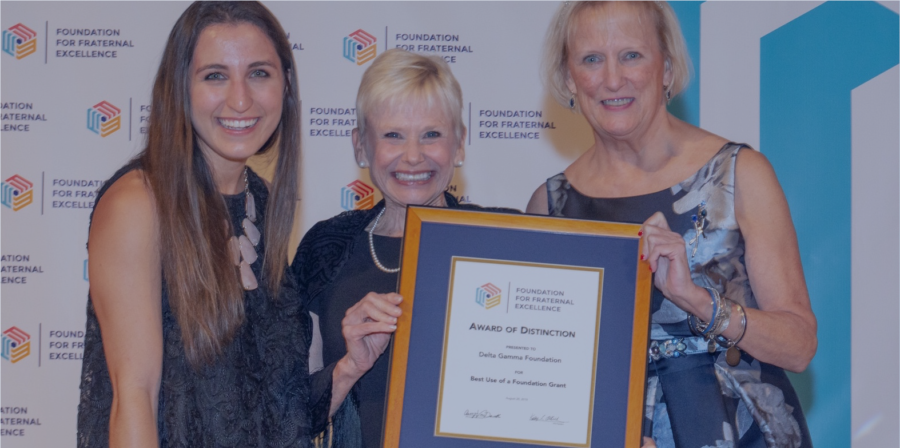 2018 Individual Awards of Distinction Honorees
PAT & ED EVANS
Outstanding Philanthropist Award
ALPHA DELTA PI FOUNDATION
Pat and Ed are living examples of what they were both taught through their membership in Alpha Delta Pi and Sigma Alpha Epsilon," said Tracy Garner, Alpha Delta Pi Foundation President.
STEPHEN "TIO" & JANELL KLEBERG
Outstanding Philanthropist Award
PHI DELTA THETA FOUNDATION
Tio and Janell Kleberg support the Phi Delta Theta Foundation with their treasure and their time. Their transformational gift to the "Building on the Bond" campaign and participation in leadership events for students demonstrate their passion and commitment for the organization.
THOMAS D. CASSADY
Outstanding Foundation Volunteer
Tom Cassady has excelled in every volunteer and professional role he has chosen because he is motivated to serve others," said Jonathan Brant, Beta Theta Pi Foundation Director. "His leadership, commitment and Beta Spirit are second to none in Beta Theta Pi.
JULIE WAITMAN
William D. Jenkins Outstanding Foundation Professional Award
ALPHA GAMMA DELTA FOUNDATION
As Executive Director of Alpha Gamma Delta Foundation, Julie's colleagues say it has flourished under her leadership because of her drive to implement innovative fundraising techniques and new ways of reaching and supporting members.
2018 Organization Awards of Distinction Honorees
BEST DEVELOPMENT EFFORT IN ANNUAL CAMPAIGN | READ MORE
Alpha Delta Pi Foundation and Kappa Kappa Gamma Foundation
BEST MAJOR GIFTS DEVELOPMENT EFFORT
Chi Omega Foundation
BEST PLANNED GIVING EFFORT
Beta Theta Pi Foundation
BEST COMMUNICATIONS EFFORT
Alpha Chi Omega Foundation and Delta Tau Delta Educational Foundation
BEST STEWARDSHIP EFFORT
FarmHouse Foundation
BEST USE OF A FOUNDATION GRANT
Delta Gamma Foundation
BEST CAMPAIGN/PROGRAM IN SUPPORT OF AN OUTSIDE PHILANTHROPY | READ MORE
Delta Gamma Foundation
BEST NEW DEVELOPMENT IDEA
Beta Theta Pi Foundation and Delta Chi Educational Foundation