Alliance Partners have the opportunity to connect with more than 350 key decision-makers, executives, staff and volunteers from inter/national fraternities, sororities and their foundations at the dual program.
JOINING US IN PARTNERSHIP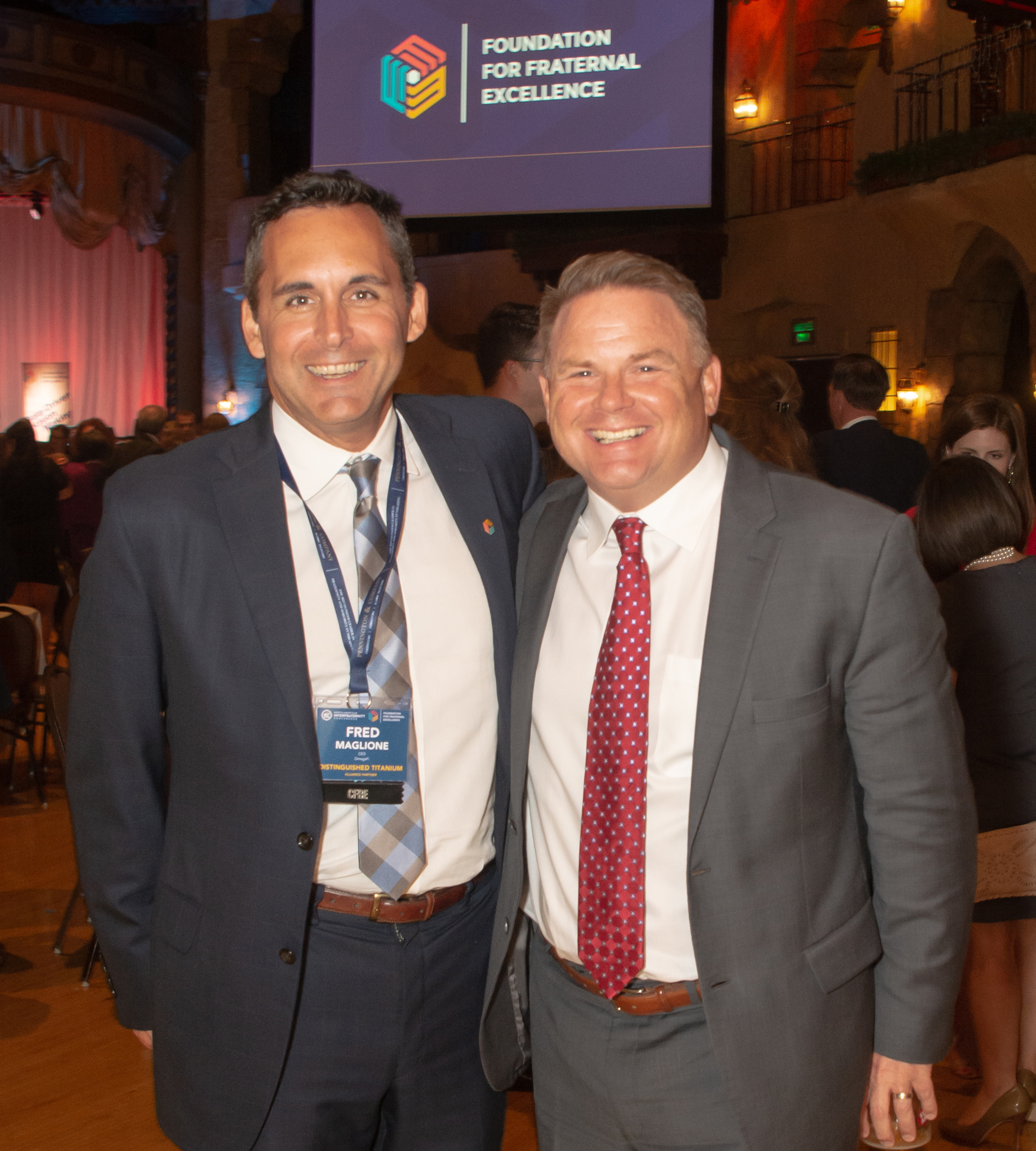 As an NIC or FFE Alliance Partner, you gain industry recognition, enjoy high visibility during programs—like this one—and receive unique opportunities to market to member organizations/members by connecting with the interfraternal industry's key decision makers and influencers. Businesses and organizations serving the interfraternal community and/or fraternal foundations receive tangible benefits as a result of their participation in the Alliance Partner programs focused on growing their business.
Are you a vendor not currently an active Alliance Partner with the NIC and/or FFE? Contact NIC COO Mike McRee for more information. You must be an Alliance Partner in order to exhibit at the meeting.
CONFERENCE BENEFITS
As an NIC/FFE Alliance Partner, when you register to exhibit at the Annual Meeting/Seminar, your business/organization receives these benefits at the conference, in addition to other year-round benefits:
For Silver partners and above, complimentary registration(s)
Advertisement and your logo in the Alliance Partner listing in the conference Program Book (see deadline & info below)
Your logo on conference signage
A list of attendees
NIC Diamond Alliance Partners or Distinguished Diamond partners also have access:
One-on-one meetings with NIC fraternity executives
Invitation to participate and give remarks in the Governing Council meeting
Invitation to a special reception
Recognition and opportunity to give remarks at a general session/meeting (also for Platinum)
FFE Diamond Alliance Partners or Distinguished Diamond partners also have access:
Invitation to participate and give remarks in the FFE Board of Directors' meeting
Invitation to a special reception
Recognition and opportunity to give remarks at a general session/meeting (also for Platinum)
HOTEL LOCATION/MAP
NIC Annual Meeting of Members and FFE Seminar are at the Indianapolis Marriott Downtown. Alliance Partners will exhibit in the Marriott pre-function/hallway space near the Marriott Ballroom (2nd floor).
BOOTH & EXHIBITING TENTATIVE SCHEDULE
Set-up: Monday, 8 – 11:30 a.m.
Tear-down: Wednesday, Noon – 1 p.m.
Your booth:
Alliance Partners are assigned to exhibit booths based on level and tenure of partnership with both FFE and NIC Alliance Partners in the same area. You will be notified of your placement within the exhibiting area a week prior to the conference.
Each booth will have a 6′ table and two chairs.
An electric drop and/or wi-fi access may be requested by filling out the form provided with a link below. A 10% discount will be provided if you order at least five days in advance of the meeting.
SHIPPING & RECEIVING
All materials must be marked as follows:
Hold for arrival – August 24, 2020
Attention – Guest's name, organization and FFE/NIC meeting
Number of boxes – 1 of 1, 1 of 2, etc.
Shipping address:
C/O Marriott Indianapolis Downtown
350 West Maryland Street
Indianapolis, IN 46225
Shipping and receiving rates: Letter/Flat $2.50, Small package (less than 20lbs) $5.00, Large package (20lbs. or greater) $10.00, Display case $35.00, Shrink-Wrapped Pallet/Skid $75.00, Crate over 500lbs $150/each.
Shipping Display Materials:
Materials may be shipped via a carrier of your choice. Return shipping must be pre-arranged by carrier.
All packages being sent to the hotel should include a full return address including the shipper's name.
If shipping multiple boxes, in lower left corner, identify boxes: 1 of 4; 2 of 4; 3 of 4, etc. 
Hotel staff will receive items 3 days prior to event.
All packages will be delivered to exhibit booths on the day of setup.
Fedex and UPS carriers do not need to be contacted directly by the guest for outgoing mail if the mail is outgoing for Monday – Friday. If mail is outgoing for Saturday or Sunday, guest will need to contact the carrier directly and make arrangements (IMD is not responsible for making these arrangements).
All other carriers (excluding Fedex and UPS) will need to be directly contacted by the guest in order send outgoing mail. Indianapolis Marriott Downtown will not be responsible for making these arrangements.
Handling Fee for Outgoing Packages: Alliance Partners are responsible for packing and labeling their own outbound shipments.
ELECTRICAL/INTERNET ONSITE AT BOOTH
Please contact the hotel AV company: Markey's Rental & Staging at Marriott Indy Place by filling out this online form. Question can be directed to exhibitorsmarriottplace@markeys.com
PROGRAM BOOK ADS
Please provide your ad for the program book by July 1, 2020, to be included in the printed version onsite and email your ad to todd.shelton@nicfraternity.org. Ads sizes depend on your Alliance Partner level. NIC and FFE Diamond and Platinum are full page ads, Gold and Silver are half page ads, and Bronze are quarter page ads. Here are the ad specs that correspond to your ad size: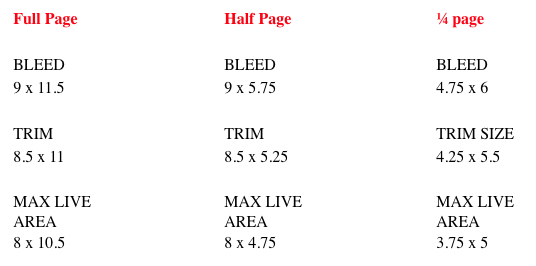 SCHEDULE AT-A-GLANCE
View the full NIC Annual Meeting of Members/FFE Seminar schedule of programming and events.
Key times for Alliance Partners include:
Registration opens at 7:30 a.m. on Monday
Booths can be set up Monday between 8 – 11:30 a.m. and must be torn down on Wednesday between Noon – 1 p.m.
Exhibiting/Networking breaks will occur:
Monday, 11:30 a.m. to Noon, 2:30 – 3 p.m. and 4 – 4:30 p.m.
Tuesday, 9:30 – 10 a.m., 11 – 11:30 a.m., 1 – 1:30 p.m. and 2:30 – 3 p.m.
Wednesday, 10:30 – 11 a.m.
Key events for Alliance Partners include:
Welcome Reception – Monday, 5:30 to 6:30 p.m., Exhibit Area
Awards of Distinction Reception – Tuesday, 5:30 to 6:30 p.m. at The Indiana Roof Ballroom (preceding the formal dinner program)
NIC/FFE Alliance Partner Meeting – Wednesday, 7:30 to 8:15 a.m.