Balfour Fellowships are an interfraternal scholarship providing financial assistance to fraternity/sorority members enrolled full-time in accredited graduate or professional schools.
HONORING LLOYD G. BALFOUR
The Balfour Fellowship is named in honor of Lloyd G. Balfour, a member of Sigma Chi Fraternity who devoted his life to advancing the interfraternal community through leadership and service across North America. We believe, as L.G. did, fraternal membership can have lifelong impact by providing leadership development, fostering a commitment to service, and instilling self-confidence and desire to strive for fraternal excellence.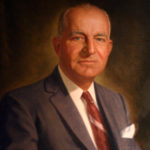 The application period has closed for 2020. Recipients will be notified in June. For questions, contact Ashley VanDewark.
2019 BALFOUR FELLOWSHIP RECIPIENTS
AUSTIN BORJA
PHI KAPPA PSI
UNIVERSITY OF PENNSYLVANIA
Pursuing Doctor of Medicine at Penn Medicine
I believe that the maxim of Phi Kappa Psi, "the great joy of serving others," especially resonates with LG Balfour's mission. As I continue into the next chapter of my life, medical school, I am honored to use this fellowship to focus on the research and service that originally drew me to the medical profession.
ASHLEY CHRISTMAN
ALPHA DELTA PI
ASHLAND UNIVERSITY
Doctor of Education in Student Affairs Administration and Leadership at University of Wisconsin – La Crosse
I am working on my dissertation and hope my research will be beneficial for the fraternity and sorority profession. I also am learning how to better support students in my current role as assistant director of student engagement. In ten years, I hope to be serving as a Vice President for Student Affairs and know that this degree will help prepare me for such a position.
KYRA COOPER
SIGMA KAPPA
TRUMAN STATE UNIVERSITY
Pursuing a Juris Doctor at University of Chicago
As I begin my studies to obtaining a law degree, I am very grateful to have been awarded a Balfour Fellowship. Greek Life was an incredibly rewarding aspect of my undergraduate career, fostering significant personal growth, wonderful opportunities, and lasting friendships. It was an honor to be selected for this designation, and I am thrilled to be able to strengthen my connection to the Greek community through being a Balfour Fellow.
TERESSA HILL
ALPHA DELTA PI
WASHINGTON AND LEE UNIVERSITY
Pursuing a Doctor of Dental Surgery at Harvard University
The Balfour Fellowship embodies the values of resilience, leadership and collaboration instilled in me by my sorority. Being awarded the Balfour Fellowship engendered in me the desire to perpetrate these values by supporting and advocating for young women pursuing careers in health care. All in all, the Fellowship will allow me financial freedom to give back to a field that has changed my life, through alleviation of the financial burden of dental school.
CALLIE LANE
ALPHA DELTA PI
UNIVERSITY OF MISSOURI-KANSAS CITY
Pursuing a Doctorate of Physical Therapy at University of Kansas Medical Center
I truly believe in the excellence that Greek membership encourages, and I am thankful that the Balfour Fellowship supports students in graduate education. The values of Alpha Delta Pi taught me a way of life that I see every day. I learned how to lead others while also serving those in need, and I know these experiences will carry through to my career as a physical therapist.
ASHLEY MCFARQUHAR
ALPHA OMICRON PI
MCGIILL UNIVERSITY
Studying in the College of Medicine at the University of Oklahoma
I am grateful for the Balfour Fellowship because this award will allow me to pursue a medical degree at my top-choice institution, while remaining involved in research and community outreach programs. I plan to always strive to uphold my fraternal values of character, dignity, scholarship and college loyalty. I am thankful to be part of a community of fraternity and sorority members dedicated to lifting one another up personally and professionally, regardless of our Greek organization, as LG Balfour intended.
DANIEL NOVINSKI
THETA CHI
NEBRASKA WESLEYAN UNIVERSITY
Pursuing a Doctor of Medicine at the University of Nebraska - College of Medicine
Membership in Theta Chi Fraternity has instilled in me the value of extending an assisting hand to all who seek it. I am honored and grateful to be a recipient of the Balfour Fellowship and will utilize the leadership and values I developed as a Greek member to benefit my patients as a future physician.
ELIZABETH REICHART
KAPPA DELTA
HIGH POINT UNIVERSITY
Pursuing a Masters of Public Administration studying Energy and the Environment at Columbia University
My Kappa Delta experience played a formative role in shaping my professional pursuits during my undergraduate and beyond. I am so grateful to be supported by the Greek community in my pursuit of a Masters of Public Administration in Energy and the Environment.
ELIZABETH ROBINSON
ALPHA DELTA PI
MERCER UNIVERSITY
Pursuing a M.D./MPH at Georgetown School of Medicine
I am extremely honored and grateful to have received the Balfour Fellowship. Through my membership in Alpha Delta Pi, I learned how to lead and serve my community. Both of these ideals have shaped my future and prepared me to begin my journey to become a physician at Georgetown School of Medicine.