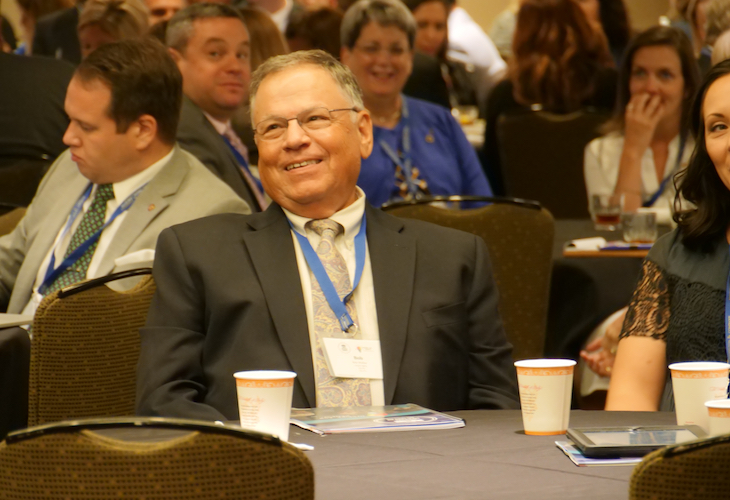 This meeting has elevated the way we operate because it has accelerated the education of our new trustees. The learning curve is not so steep.
INDIANAPOLIS MARRIOTT DOWNTOWN
Learn more on the Dual Meeting
The premier program for fraternal foundation professionals
This flagship program of the Foundation for Fraternal Excellence is the largest of its kind dedicated to education and professional development for fraternal foundation staff and volunteers. Seminar provides attendees with a forum to collaborate on advancing our organizations' mission while also offering an opportunity to learn new strategies and tools for our work, collaborate on shared business problems and network with over 350 industry professionals. In addition, Seminar provides a chance to recognize outstanding achievements of FFE member organizations and individuals through Awards of Distinction.
Recap: FFE Seminar 2019 Keynote Speakers
Penelope Burk
Being Donor-Centered in Changing Times …how to raise more money in a changing donor environment
In a rapidly evolving world, fundraising cannot shield itself from change. But making the right choices when resources are limited and competition is fierce is the challenge that every professional fundraiser faces. Luckily, today's donors are much more specific about what inspires their philanthropy and they have more money to give – in some cases, lots more money – if they get the donor-centered things they need.

In Being Donor-Centered in Changing Times, Penelope Burk returns to the FFE Seminar with new research on what motivates donors to start giving, remain loyal longer and move their giving from modest to generous sooner. Of particular interest to foundation staff and volunteers, Penelope will talk about stewarding young donors' philanthropy. 36% of all donors she surveyed last year said they held their philanthropy back; and the ones most likely to say they were giving less than they could were under the age of 35.

Penelope will round out her keynote address with new research findings in the most important of all fundraising programs – planned giving. Her latest research reveals why a third of donors surveyed are real prospects for bequests and what fundraisers (even young professionals) can do to turn donors' interest into lucrative commitments.
Brady Josephson
Using Data to Optimize Your Fundraising
Why do people give? It's a foundational question for any fundraiser or organization but the answer, or answers, are multi-faceted and can be quite complex. This is where data from real interactions with real donors can help narrow the gap between what we think, what people say, and what donors actually do. Brady will provide a simple framework to think about data and how it can be collected, interpreted, and used by any organization to better understand their donors and improve their fundraising results. Full of real experiments and examples you'll walk away with new ideas to try and, hopefully, a better concept of how to use data to benefit your work.

Brady is a charity nerd, entrepreneur, digital marketer, professor, and writer. He's the Vice President of Innovation and Optimization at NextAfter —a fundraising research lab and consultancy on a mission to unleash the most generous generation in the history of the world — where he performs original research, develops resources, and provides training to help organizations reach more people, acquire more donors, and raise more money to fund their world-changing work.