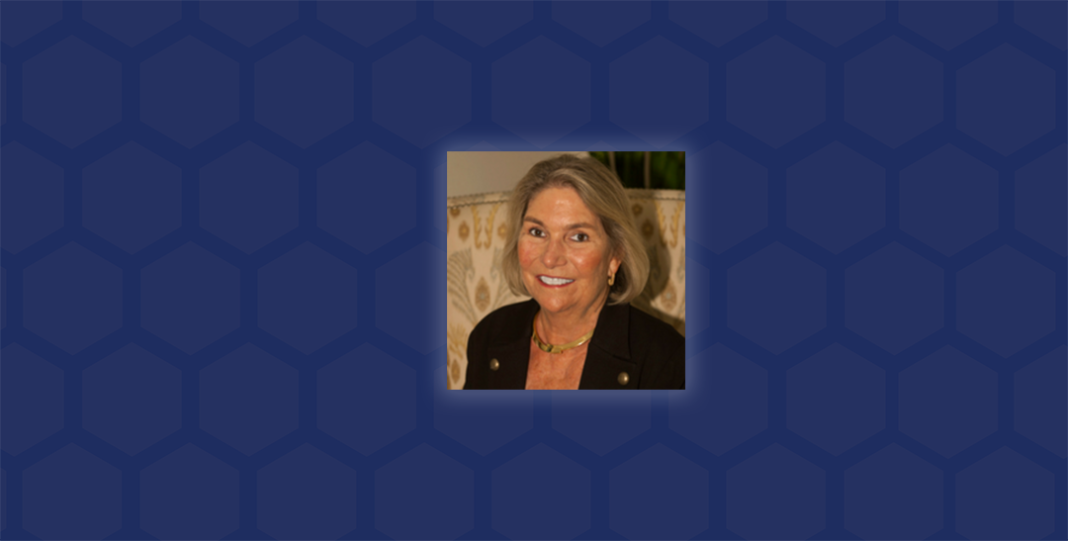 Indianapolis, July 24, 2020 – Through a remarkable ability to inspire others to give, Mary Jane Jackson Crist's talent at engaging high-capacity donors has opened up vast opportunities for the Kappa Kappa Gamma Foundation. She is someone who has helped at every turn, with every major project the foundation has undertaken.
For this perseverance, Crist has been named 2020 recipient of the Foundation for Fraternal Excellence Outstanding Volunteer Award.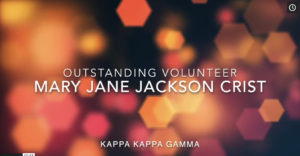 She has been involved in development for Kappa Kappa Gamma since the 1980s, before the foundation was officially formed, and she was among the first Board of Trustees in the early 1990s. Still an active volunteer, Crist serves as the current Vice President. She also is the organization's largest single donor, contributing more than $1 million in gifts.
"Her impact is measurable in dollars, but … it's hard to imagine a Kappa Kappa Gamma Foundation even existing without Mary Jane's extraordinary volunteerism and generosity," said Maggie Sims Coons, Kappa Kappa Gamma Foundation Executive Director.
In a 50-plus year career in higher education and philanthropic management, Crist has raised over $130 million in gifts for health care and cancer philanthropies and education initiatives. She established the Barrow Foundation UK in 1999 to support international medical research and education in the neurosciences. After her husband, Warren, passed, Mary Jane established the Warren and Mary Jane Crist Foundation, a private foundation that supports areas close to their hearts such as education and research in medicine, music and art education and leadership development.
"Mary Jane is a selfless volunteer who we are so proud to call our sister," said Suzanne VanderHeyden, Kappa Kappa Gamma Foundation President.
The graduate of the University of Arizona is based in the Phoenix and Hawaii areas.
The Outstanding Volunteer Award will be presented on Tuesday, Aug. 25, during the FFE Awards of Distinction Program, part of FFE Seminar 2020.
###
ABOUT THE FOUNDATION FOR FRATERNAL EXCELLENCE
The Foundation for Fraternal Excellence (FFE) cultivates a culture of philanthropy and care across the fraternal community. Often known as the "heart" of a fraternal organization, foundations and fundraising professionals come together to comprise the FFE membership and benefit from programs, services and resources for fraternal fundraising. The FFE also offers scholarships to graduate students and professionals for continuing education, provides operational support for new and emerging fraternal foundations, and works hand-in-hand with fraternal communities and the North American Interfraternity Conference (NIC) to strengthen and improve the entire fraternity/sorority experience.