Our Partners Are Your Partners
Alliance Partners are key contributors to the work of fraternal foundations and our professionals. These organizations have committed to providing excellent service and support to FFE member foundations in nonprofit finance, fundraising strategy, accounting processes and management, print and digital design, legal services, database solutions, educational programming and more. FFE strives to build relationships with partners who understand the work of fraternal foundations and how they can best serve your needs. "Distinguished" level partners support both the Foundation for Fraternal Excellence and the North American Interfraternity Conference (NIC).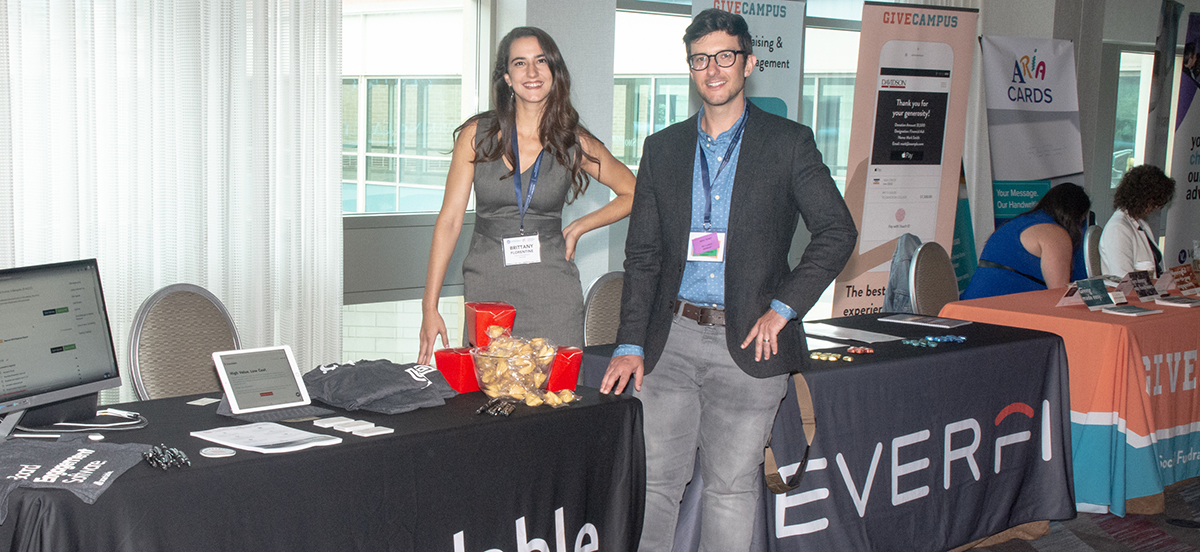 Distinguished Titanium Partners
At the intersection of FinTech and fraternity, OmegaFi, headquartered in Columbus, Georgia, provides financial, fundraising and communication software, payment solutions and support for fraternities and sororities across the United States. Their innovative tools, expertise and customer-centered approach help fraternal chapters, house corporations, headquarters and foundations optimize operational efficiency and increase revenue. Partnering with OmegaFi provides administrative relief and support allowing key officers and staff members to focus on mission-driven priorities.
Pennington & Company is unique in the world of fundraising counsel because, like you, we have a passion for the life-changing experience that membership in a Greek-letter organization provides. In our 22 years, we have raised more than $650 million (more than all of our competitors combined) and are the leading provider of alumni communications and fundraising services, having worked with 800 house corporations on more than 145 college campuses and 22 national foundations. For the past 15 years, we have been compiling the IRS 990s as a service to the industry to help establish benchmarks and gauge trends for the FFE.
Distinguished Diamond Partners
In 2018, Billhighway and greekbill joined forces in order to provide more options to fraternities and sororities. We are unified in our mission of simplifying finances and developing innovative solutions to support the fraternal industry and our clients' vision for the future.
ChapterSpot is the leading CRM solution for advanced fraternal headquarters and foundations. ChapterSpot's technology is built on the Salesforce platform and offers a comprehensive suite of tools to connect your local chapter management, with your headquarters business processes and your foundation's donor cultivation.
Fraternal Law Partners, a division of Manley Burke, LPA, was founded in 2012 to serve the legal needs of fraternities, sororities, student life organizations and their related charitable foundations. Fraternal Law Partners provides legal counsel on business matters – real estate and housing, corporate governance, employment issues, tax, grant-making, and fundraising and stewardship support – as well as risk management and hazing counsel, crisis and incident management, litigation and other liability issues.
AMG is a privately held bank offering comprehensive financial services designed to help you achieve long-term financial security and success. We manage approximately $4.5 billion* for clients from our offices in Denver, Boulder, Cheyenne, Chicago, Morristown and Virginia Beach. For over 40 years, AMG has helped affluent individuals and families, corporate executives, business owners, nonprofit institutions and endowments achieve their financial goals.
HistoryIT is a transformative technology and services company.
We provide clients with a brand new approach to making historical collections more accessible, meaningful and even profitable. A national company with headquarters in Portland, Maine, HistoryIT is owned and managed by professional historians, archivists, and technologists.
We bring industry-leading expertise to preserve historical collections of all types and sizes and to make them searchable in meaningful ways. Working with cultural institutions, universities, corporations, professional associations, sports teams, and others, HistoryIT leverages cutting- edge technologies, proprietary methodologies, and the subject matter expertise and commitment of its team to create appealing, effective digital portals for historical resources.
One of the first companies to specialize in improving the fundraising performance of college fraternal foundations, Gabriel Group continues to rank among the most productive. Led by a CFRE-credentialed management team with extensive industry knowledge and special expertise in annual giving and planned giving lead generation campaigns, Gabriel Group uses data as the compass to inform all elements of campaign strategy including productive audience segmentation and individualized gift arrays. The team then weaves together industry expertise, client-specific knowledge, compelling creative and complete in-house production capabilities into strategic communication plans and solicitations.
Over 1,500,000 people across the world have used SmarterSelect to create, manage, analyze, apply for, and evaluate over 40,000 online application programs. Whether you are managing scholarships, grants, recognition awards, or any type of program that requires an online application form, SmarterSelect has solutions that will meet your online application management needs.
SUNTRUST FOUNDATIONS & ENDOWMENTS SPECIALTY PRACTICE
Since 1985, SunTrust has been recognized as a leading provider of investment advisory and administrative services to not-for-profit institutions. We offer independent, conflict-free fiduciary investment advice through an Outsourced Chief Investment Officer (OCIO) model. SunTrust's OCIO practice was developed to allow the implementation of tailored portfolios for each of our clients allowing flexibility to incorporate all goals, objectives and constraints. Each client's portfolio benefits from our collective best thinking and manager implementation utilizing our rigorously selected global manager platform.
Blue & Co., LLC is an independent accounting and advisory firm with more than 450 people in 11 offices across Indiana, Ohio, and Kentucky and a focus on the fraternal industry. We are dedicated to helping clients carry out their visions and impact their communities.
CauseVid helps nonprofits engage their members and thank their donors with video. Our platform makes it easy to create and send videos and our team of fundraising and video experts can help you plan and deploy video-first digital fundraising campaigns.
The DonorSearch mission is to provide more accurate, comprehensive, and actionable data to help nonprofits of all types achieve better fundraising results. Using sophisticated modeling and analytics, DonorSearch provides development staff with prospect research services that help them identify, qualify, and build relationships with 30% more potential major gift donors.
MCM CPAs & Advisors offers expertise in audit and assurance services, tax planning, business valuation, litigation support, fraud examination, business start‐up and consulting for non‐profit, public and privately held organizations, and individuals. The company has offices in Louisville and Lexington, Kentucky; Jeffersonville and Indianapolis, Indiana; and Cincinnati, Ohio, and was recently ranked by Inside Public Accounting's Top 100 list as the 78th largest accounting firm in the United States (based on net revenue). MCM is an independent member of PrimeGlobal, one of the world's top five associations of independent accounting firms. The firm has been awarded Best Places to Work distinctions in multiple states and cities.
Mentridge builds trusting lifelong productive relationships between students and alumni. Mentridge has built engaging technology and paired it with 25 years of major gift fundraising & relationship management experience to offer fraternal clients a unique approach to today's most challenging problems.
Plaid is an organizational training and development firm that helps people and teams be better versions of themselves. We offer a broad range of services including online course design, curriculum evaluation & design, strategic planning, executive search & selection, team building, program facilitation, and culture change programs.
RNL is the leading provider of higher education enrollment, student success, and fundraising solutions. The firm serves more than 1,900 colleges and universities through data-driven solutions focused on the entire lifecycle of enrollment and fundraising, assuring students find the right program, graduate on time, secure their first job in their chosen field, and give back to support the next generation. With a deep knowledge of the industry, RNL provides institutions the ability to scale their efforts by tapping into a community of support and resources. Visit www.RuffaloNL.com to learn more.
VONLEHMAN CPA & ADVISORY FIRM
Founded in 1946, VonLehman is a forward-thinking CPA and business advisory firm that deftly guides closely held businesses, nonprofits and governmental entities through the rough terrain of an ever-changing landscape. VonLehman goes beyond accounting, tax and auditing services to offer strategic business advice that is in high demand among small and mid-sized organizations. True to our longstanding commitment to building the community, we specialize in sectors that drive our regional economy – including manufacturing and distribution, construction and real estate, nonprofits, healthcare, and professional services. VonLehman's Nonprofit Group understands the unique challenges and opportunities facing charitable and tax-exempt organizations. Since 1946, we have helped nonprofits of every type negotiate the push-pull between capacity and mission.