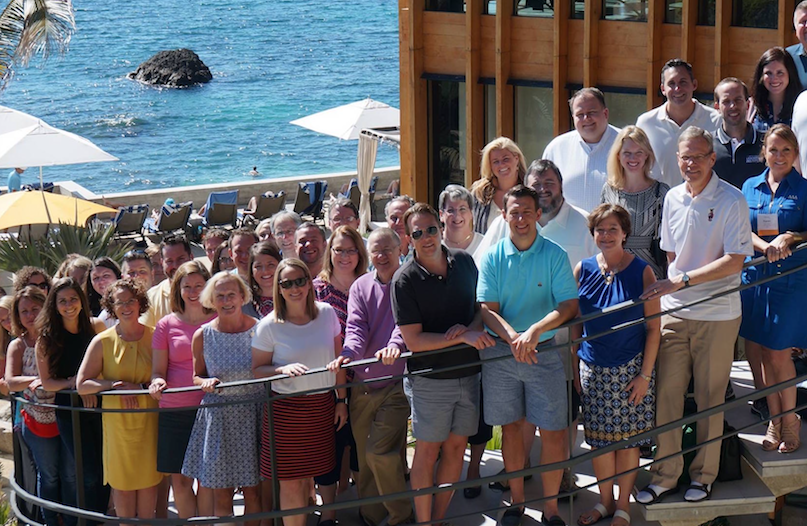 As a first timer, I wasn't sure what to expect, but Summit turned out to be one of the most beneficial professional development opportunities for me and the organization I lead. I met many people willing to share not only their successes, but also their failures. I walked away really encouraged that we are laying the foundation of a great organization for the future. This is a can't miss event because the opportunity to connect with other industry professionals is unmatched. I am already looking forward to sharing what we are doing in 2018 to support our growing organization.
Jason Hoyt
President and COO, Beta Upsilon Chi, Inc.
THE CAPE, CABO SAN LUCAS, MEXICO
A retreat opportunity for Foundation Executives
Formerly known as Institute for Greek Advancement, Summit remains the foremost opportunity for foundation executives, FFE Board Members and FFE Alliance Partners to spend dedicated time among peers. The outcome is an enhanced network of executives with whom you can connect and advise throughout the year, and a greater understanding of the work of some of our Alliance Partners and how they can elevate your operations.
Summit's executive retreat format engages fraternal foundation executives in critical thinking, best practice-sharing and open discussion around industry trends and issues impacting our work. Sessions explore how we can work together toward solutions to common problems and find continuous success in our ever-changing environment.
FUNDRAISING IN AN ERA OF VENTURE PHILANTHROPY
Competition for philanthropic dollars has escalated in recent years, particularly with educational organizations. A new type of charitable giving – venture philanthropy – has emerged and is impacting both educational policy and practice. Venture philanthropy involves donors using business models, championed practices of venture capitalists, and decision-making procedures to drive philanthropy and engagement with organizations they support. This session will explore the tenants of venture philanthropy and how organizations can employ best practices to effectively work within the new donor model.
STRATEGIC STORYTELLING TO ENGAGE DONORS AND RAISE DOLLARS
It doesn't matter what you want to say if nobody is listening. Storytelling is a powerful method to engage constituents and raise dollars. Telling your organization's story effectively can compel constituents to give consideration to your cause and ignite donors to take action. This session will explore how to communicate your organization's work to grow your fundraising success by infusing storytelling into your communications plan, cultivation strategy and solicitations.
TURBULENCE: LEADING AND ENGAGING OTHERS IN MISSION IN TENTATIVE TIMES
Leading a nonprofit can be one of the most challenging roles in the world, especially with increasing staff turnover, greater "impact" focus from donors, and competing demands of a regularly changing board. We will have candid conversations about the challenges, anxieties, hopes, and joys of leading fraternities in the 21st century. We'll look at the latest research on styles of nonprofit leadership, explore how to effectively set goals and tell our stories, specifically to fit with our organizational character. You'll leave with a framework for being a transformational leader in tentative times.
Joshua D. Merchant, Ph.D.
President, Buena Vista University
Dr. Joshua D. Merchant has worked in education for more than 20 years. His experience in development, alumni engagement, advancement operations, enrollment management, and marketing and communications complement his personal philosophy of being community, faculty and student-centered.
Dr. Merchant began his presidency at Buena Vista University in Storm Lake, Iowa in the summer of 2017. Within his first year, he established the Education for Service Scholars, an annual full-tuition scholarship program for 10 local first-generation students; revived the marching and pep band programs after a 20-year absence; launched the University's first comprehensive civic engagement plan; and completed fundraising and is currently overseeing a $15.1 million renovation of the business school. As a volunteer for Delta Sigma Phi, he chaired the Delta Sigma Phi Foundation National Ambassador Program and is an active member of the fraternity's Capital Campaign Committee.
He previously served as vice president of development and alumni engagement at the University of North Florida and the executive director and CEO for the UNF Foundation, Inc. At Albion College, he was vice president for institutional advancement. He was assistant vice president of advancement at Interlochen Center for the Arts in northern Michigan.
Earlier in his career, he served as senior director of development at Central Michigan University's College of Business Administration where he was part of an $80 million capital campaign.  He also spent time at Michigan State University where he worked in special and major gifts for both the College of Veterinary Medicine and College of Agriculture and Natural Resources, where he was part of a $1.5 billion capital campaign.
A graduate of Albion College with a Bachelor of Arts in speech communication and theatre, Dr. Merchant was also a member of the Albion College Alumni Association Board of Directors for five years, serving as president from 2006-08. He holds a master's degree in agriculture and extension education from the College of Agriculture and Natural Resources at Michigan State University and received his Ph.D. in educational leadership, research and technology from the College of Education and Human Services at Western Michigan University. His research focus is in venture philanthropy and its impact on shared governance structures in higher education. Dr. Merchant's research was awarded the 2016 Donald A. Gatzke Outstanding Dissertation Research Award by the American Association of University Administrators. He also holds a certificate in fund raising management from Indiana University-Purdue University Indianapolis.
Dr. Merchant has been married to his wife Carrie for more than 20 years. They are proud parents of two sons, Elijah (16) and Griffin (13) and reside in Storm Lake, Iowa.
Marc A. Pitman, CFCC
Founder, The Concord Leadership Group LLC
An international leadership coach and fundraising trainer, Marc A. Pitman helps nonprofit board members and staff get excited about asking for money. He is the founder of The Concord Leadership Group and of FundraisingCoach.com—recognized by The Atlantic as "1 of 5 Philanthropic blogs fundraisers need to read." He is also the author of Ask Without Fear!®, the executive director of the affordable fundraising training program The Nonprofit Academy, and an Advisory Panel member of Rogare, a prestigious international fundraising think tank.
Because of his dynamic trainings, Marc speaks to thousands each year at events like the World Fundraising Summit in Mexico, trainings in New Zealand, Association for Fundraising Professionals International Conference, and organizations around the world, even groups like the International Bowling Expo. His experience in nonprofit fundraising and leadership training, as well as his balanced commentary, has caused him to be featured in books and articles around the world and be sought out as a guest on TV, radio, and print as diverse as Al Jazeera, SUCCESS Magazine, and Fox News.
With a passion that's made people call him the "Johnny Appleseed of fundraising," Marc believes fundraising is all about leadership. Fundraising affects everything from mission and vision to board governance to HR to marketing and community relations. So he is committed to making it ridiculously easy for everyone— board members, volunteers, and nonprofit staff— to get fundraising training. Ask Without Fear! has been translated into Dutch, Polish, Spanish, and Chinese. And he continues to write books, create fundraising training DVDs, and collaborate on systems like 100 Donors in 90 Days.
HOTEL
The Cape, Cabo, San Lucas
The Cape is a boutique hotel with stunning and relaxing ocean views. The Summit group rate below is available for three days pre- and post-conference. Reservations/booking will be managed by FFE staff, and the hotel will accept credit card for final payment upon check-in. Check-in/check-out dates will be confirmed in pre-con communication, giving flexibility to register prior to making flight arrangements. Roommate requests can be made through registration. All rooming requests and changes must be completed by December 11. Visit hotel website.
ROOM TYPES:
Ocean View Deluxe King: $259/night before taxes and fees
Ocean View Deluxe Double Queen: $299/night before taxes and fees
Tax is currently 19 percent and service charge 15 percent
TRANSPORTATION
Transportation is available through TransCabo from the airport to the hotel. Attendees can use this link to book and pay for ground transportation on your own. Final arrival/departure times will be confirmed in pre-con communication and shared with all attendees to allow for coordination of ground transportation if desired.
ATTIRE
Recommended Summit attire is resort casual. Men often wear polo shirts and khaki shorts or pants. Women often wear sundresses, skirts, or capris. Bring a light sweater or jacket for cooler evening temperatures and air conditioning in the hotel space.