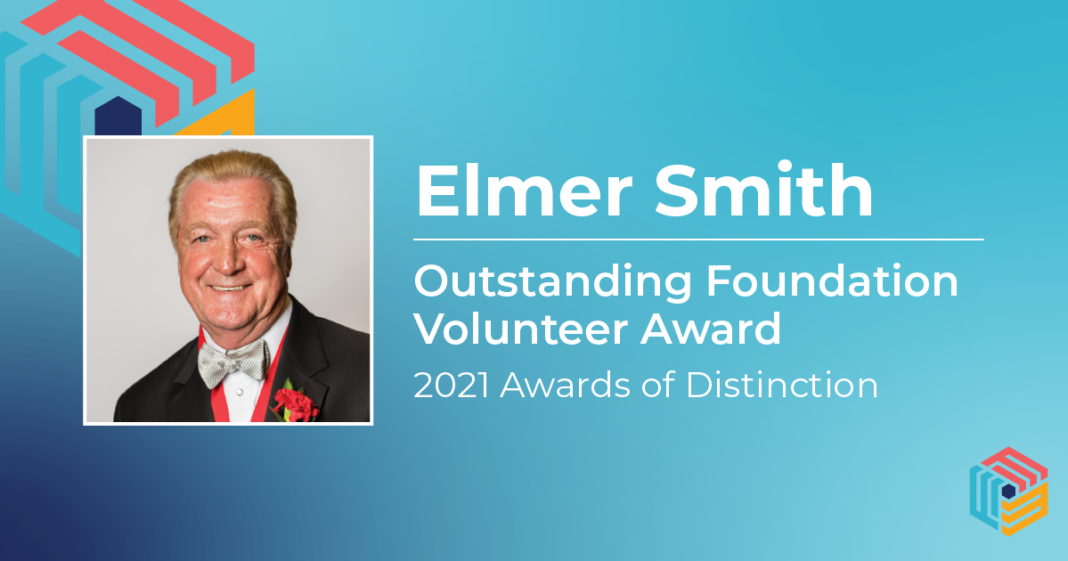 Indianapolis, August 2, 2021 – Elmer Smith has epitomized TKE's values of love, charity & esteem throughout these last 50-years and is considered a living legend among their 250,000 members across the nation.
It is for giving his heart and soul to his fraternity and the TKE Foundation that Elmer Smith has been named the recipient of the 2021 Foundation for Fraternal Excellence Outstanding Foundation Volunteer Award. His award will be presented on Tuesday, Aug. 24, during the FFE Awards of Distinction Program, part of FFE Seminar.
Joining the TKE Foundation Board of Directors in 2007, Elmer has always been a force of generosity and innovation. Constantly striving to uphold the "sterling character and staunch uprightness" deemed by TKE's founders as necessary qualifications for membership in the Fraternity, he ignites a philanthropic flame and deeper meaning of fraternalism in everyone who he encounters by nature of simply being himself.
Serving as the Chairman of the TKE Foundation from 2016 until 2020, Elmer led TKE through a period of donor and volunteer growth – welcoming six new members to its Board of Directors and establishing the Ambassador and Business Council committees consisting of over 50 volunteers and future Board prospects. While he has contributed generously, his message to other donors is simple and consistent: Give back what you can through your time, talent or treasure. Each contribution, regardless of size, makes an impact and furthers TKE's mission and vision.
Smith logged more than 50,000 air miles to represent the TKE Foundation at conferences, events and meetings at his own expense, and he has spent countless hours on conference calls, opening his home to Tekes across the nation.
Elmer motivates others to give generously and care deeply about the growth and success of TKE. His compassion and drive for building better men are illustrated by his $1 million match to fully endow the Charles R. Walgreen Jr. TKE Leadership Academy and commitment to endow the Elmer & Donna Smith Regional Leadership Conference.
"I've lost track of how many young Fraters and Foundation staff members he has personally mentored all while being an active CEO of his own multi-million dollar educational organization," said James E. Crockard III, TKE Foundation Chair.
"Elmer is the embodiment of philanthropy, volunteerism and leadership in TKE Nation, and his generosity inspires our Board, TKE volunteers, staff and collegiate members to also give of their time, talent and treasure," said Crockard.
"His greatest achievement is his compassion, drive for excellence and the pride he receives in building individuals into role models for others to learn from," said TKE Foundation CEO Steve Strathmann.  "Just as Elmer shaped my life and TKE collegiate experience, he continues to shape the lives of each Frater he encounters today, and his legacy as a philanthropist and Frater in the Bond will define TKE for decades to come."
TKE Fraternity lives by the words, "Better Men for a Better World." Elmer Smith has put his heart and soul into living these words and helped to build the Fraternity we know today.
###
ABOUT THE FOUNDATION FOR FRATERNAL EXCELLENCE
The Foundation for Fraternal Excellence (FFE) cultivates a culture of philanthropy and care across the fraternal community. Often known as the "heart" of a fraternal organization, foundations and fundraising professionals come together to comprise the FFE membership and benefit from programs, services and resources for fraternal fundraising. The FFE also offers scholarships to graduate students and professionals for continuing education, provides operational support for new and emerging fraternal foundations, and works hand-in-hand with fraternal communities and the North American Interfraternity Conference (NIC) to strengthen and improve the entire fraternity/sorority experience.