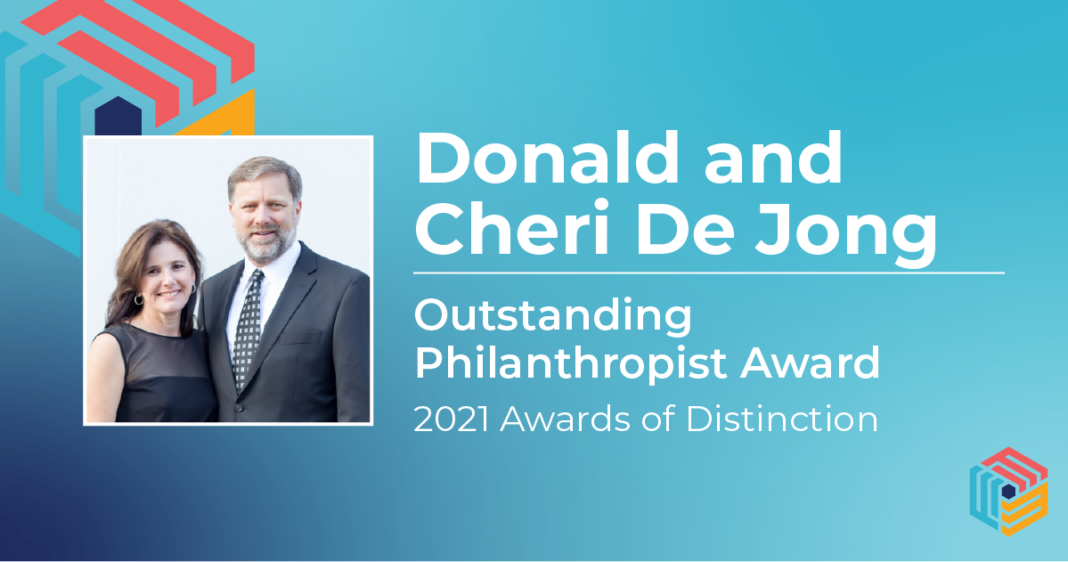 Indianapolis, August 2, 2021 – "Leading by example and investing personal effort and resources defines outstanding philanthropy, which Donald exemplifies daily," nominators said.
It is for a lifetime full of volunteerism and philanthropy that Donald and Cheri De Jong have been named the recipient of the 2021 Foundation for Fraternal Excellence Outstanding Philanthropist Award. The award will be presented on Tuesday, Aug. 24, during the FFE Awards of Distinction Program, part of FFE Seminar.
De Jong's devotion to agriculture began at a young age as he worked on his family's California dairy farm. Since joining Alpha Gamma Rho at California Polytechnic State University in San Luis Obispo, he has embodied The Purpose of AGR by not only being a leader within the Fraternity but also by making an impact on the agriculture industry. Leaders in the dairy industry, De Jong and his wife Cheri (Sigma Kappa Sorority) maintain businesses that empower dairy farmers while also contributing as board members and trustees for various companies and their respective fraternal organizations.
Having donated to The Educational Foundation of Alpha Gamma Rho for more than 30 years, and with experience holding numerous volunteer leadership positions, De Jong is now proudly serving as Co-Chair for the 2020-2025 Local Chapter Excellence Capital Campaign currently in its quiet phase. And in November 2020, because they believe in the power of AGR's programming, the De Jong family pledged a campaign leadership gift; AGR's single largest gift to date.
Honored by the generous gift, nominators said, "During one of the hardest years our country has ever faced, in a time where agricultural income is suffering, Donald and Cheri contributed a transformational leadership gift because they believe in the program that has been built."
"The De Jong investment and the motivational encouragement that De Jong leads with has sparked early momentum in the quiet phase of the campaign which positively changes the trajectory of the campaign while ultimately enhancing the bright future of the Alpha Gamm Rho Fraternity."
In addition to the De Jong's gift to The Educational Foundation of Alpha Gamma Rho, Donald and Cheri have recently launched the De Jong Foundation — an organization whose mission is to empower dairy farmers worldwide. The De Jongs are also very committed to all Greek organizations by supporting and working within the NIC, NPC and FFE.
De Jong exemplifies a lifelong commitment to the agricultural and fraternal industries. His nominators said, "Donald has reinforced the giving of others by being a leader and a lead donor — and he continues to effectively articulate the need for Alpha Gamma Rho and the positive impact of our Greek community while asking others to believe in it just as he does."
###
ABOUT THE FOUNDATION FOR FRATERNAL EXCELLENCE
The Foundation for Fraternal Excellence (FFE) cultivates a culture of philanthropy and care across the fraternal community. Often known as the "heart" of a fraternal organization, foundations and fundraising professionals come together to comprise the FFE membership and benefit from programs, services and resources for fraternal fundraising. The FFE also offers scholarships to graduate students and professionals for continuing education, provides operational support for new and emerging fraternal foundations, and works hand-in-hand with fraternal communities and the North American Interfraternity Conference (NIC) to strengthen and improve the entire fraternity/sorority experience.