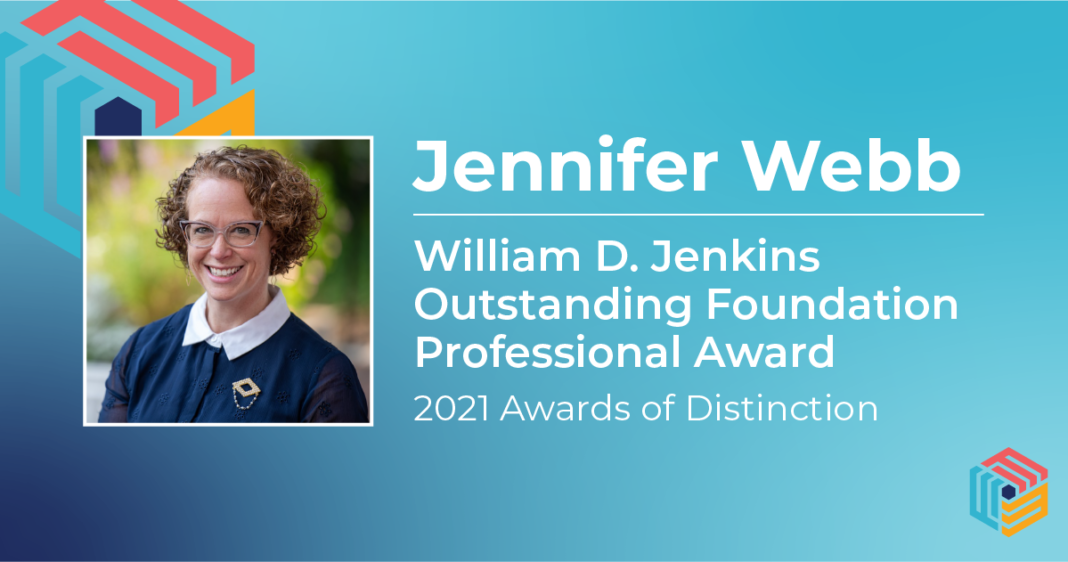 Indianapolis, August 2, 2021 – Jennifer Polley Webb has been "a breath—more like a storm—of fresh air and energy" to the Alpha Delta Pi Foundation and fraternal fundraising industry, according to her nominators.
It is for that passion and dynamism for fraternal fundraising that she has been named the recipient of the 2021 Foundation for Fraternal Excellence William D. Jenkins Award for Outstanding Foundation Professional. Her award will be presented on Tuesday, Aug. 24, during the FFE Awards of Distinction Program, part of FFE Seminar.
"Jen is the reason that the Alpha Delta Pi Foundation has realized the success that we have over the last 10 years. She believes in philanthropy with all her heart, and she lives by our Foundation's motto – Educate <> Lead <> Serve," said Tracy L. Garner, President of the Alpha Delta Pi Foundation.
Webb came to the foundation approximately 10 years ago after a decade-long career in university fundraising and political communications.
Some of the foundation's achievements under her leadership include:
The launch of a three-year $10 million comprehensive We Believe Campaign in 2014 that reached its initial goal in the first two years.
Creation and oversight of the ADPi Day of Giving, which in 2021 became the largest fraternal single-day giving event and first to reach $1 million.
The foundation has increased net assets by nearly 400% in 10 years including double the giving to the Annual Fund.
"Her enthusiasm, dedication, and work ethic are boundless. She accomplishes her diverse responsibilities with a smile and a sense of humor. She is the motivating factor for the ADPi Foundation's success, which has been considerable even during (the pandemic difficulties)," said Kathryn Karrh Cashin, Ph.D., Vice President of Scholarships for Alpha Delta Pi.
The Alpha Delta Pi Foundation staff said she is the first to roll up her sleeves and pitch in when help is needed: "Jen always goes the extra mile and shows our staff that we truly are a team working towards the same goals. Jen is a creative leader, committed to providing our team the opportunity to have pride in our work and professional growth."
Webb is a dedicated FFE volunteer, currently serving as Vice President of the Board of Directors. She is a graduate of Ashland University now based in the Atlanta area. She obtained her Certified Fund Raising Executive accreditation in 2018.
###
ABOUT THE FOUNDATION FOR FRATERNAL EXCELLENCE
The Foundation for Fraternal Excellence (FFE) cultivates a culture of philanthropy and care across the fraternal community. Often known as the "heart" of a fraternal organization, foundations and fundraising professionals come together to comprise the FFE membership and benefit from programs, services and resources for fraternal fundraising. The FFE also offers scholarships to graduate students and professionals for continuing education, provides operational support for new and emerging fraternal foundations, and works hand-in-hand with fraternal communities and the North American Interfraternity Conference (NIC) to strengthen and improve the entire fraternity/sorority experience.