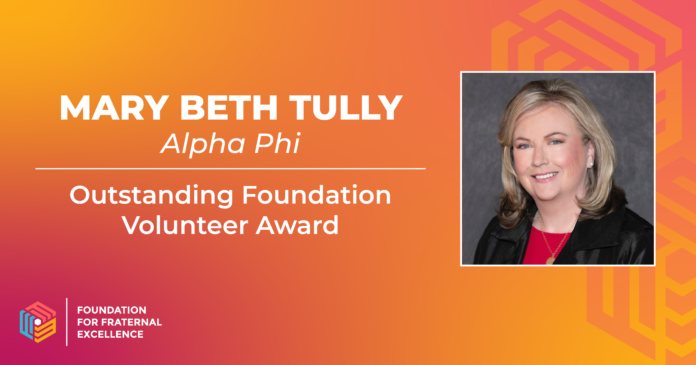 Indianapolis, July 20, 2022 – With a passion for instilling a sense of philanthropy in everyone she meets and mentoring young collegians as they develop into strong capable graduates, Mary Beth Tully is a leader of distinction. She has a proven track record of leading with foresight, determination, courage and a calm demeanor to support the causes near and dear to her heart.
It is for her fearless leadership and embodiment of Alpha Phi Foundation's mission of advancing women's lives through the power of philanthropy that she has been recognized as a 2022 Outstanding Volunteer of Distinction. Her award will be presented on Tuesday, Aug. 30, during the FFE Awards of Distinction Program, part of FFE Seminar.
"Mary Beth's leadership can be described as inclusive, fair and motivating. Mary Beth asks critical questions and invites feedback to bolster important Foundation decisions," said 2022-2024 Alpha Phi Foundation Board Chair Rebecca Andrew Zanatta.
A champion of Alpha Phi Foundation's Leading With Heart campaign, Tully was involved in the recruitment of the campaign steering committee and ambassadors, stewarding these members with her presence at meetings, through personal interactions and always appreciating their efforts.
When the COVID-19 pandemic struck, her partnership with and support of Foundation staff kept the campaign on track. In fact, in an unlikely turn of events, it gained valuable contacts as she intentionally spent time and attention building fruitful relationships to secure gifts of all amounts, and actively stewarded many donors through one-to-one interactions even in difficult times.
"She collaborates on a staff-to-staff level with the International Executive Board members, especially the President, and Fraternity volunteers. She serves as an ex officio member of the Fraternity International Executive Board (IEB) and has worked to align the fundraising priorities of the Foundation with the Fraternity's priorities and to communicate – and celebrate – both Fraternity and Foundation partnership successes," said Linda Gardner Massie and Susan Weiskittle Barrick, co-chairs of the Leading With Heart campaign.
In addition to the hours spent supporting the Alpha Phi Foundation, Tully is a volunteer committed to the fraternal experience at large. She is a longstanding volunteer serving as the Alpha Phi Chapter Advisor at Hofstra University, a housing volunteer at Lehigh University and sits on the Heart-to-Heart Advisory Council, which brings together a group of Alpha Phi alumnae in the health care sector to interview and determine recipients of the annually awarded heart health research grant.
Her volunteer work outside of Alpha Phi is extensive as well. She is a longtime volunteer of the New York Junior League, United Hospital Fund, New York and a contributor to her alma mater, Lehigh University, serving on the Alumni Committee and advocating for the Greek community – with service as Lehigh University's Alumni Association President beginning immediately after her Alpha Phi Foundation Board commitment.
Bringing inspiration and innovation to any role she serves, Tully never shies away from leading fiercely and supporting the causes that mean so much to her, giving her time, talents and treasures in all she does.
###
ABOUT THE FOUNDATION FOR FRATERNAL EXCELLENCE
The Foundation for Fraternal Excellence (FFE) cultivates a culture of philanthropy and care across the fraternal community. Often known as the "heart" of a fraternal organization, foundations and fundraising professionals come together to comprise the FFE membership and benefit from programs, services and resources for fraternal fundraising. The FFE also offers scholarships to graduate students and professionals for continuing education, provides operational support for new and emerging fraternal foundations, and works hand-in-hand with fraternal communities and the North American Interfraternity Conference (NIC) to strengthen and improve the entire fraternity/sorority experience.