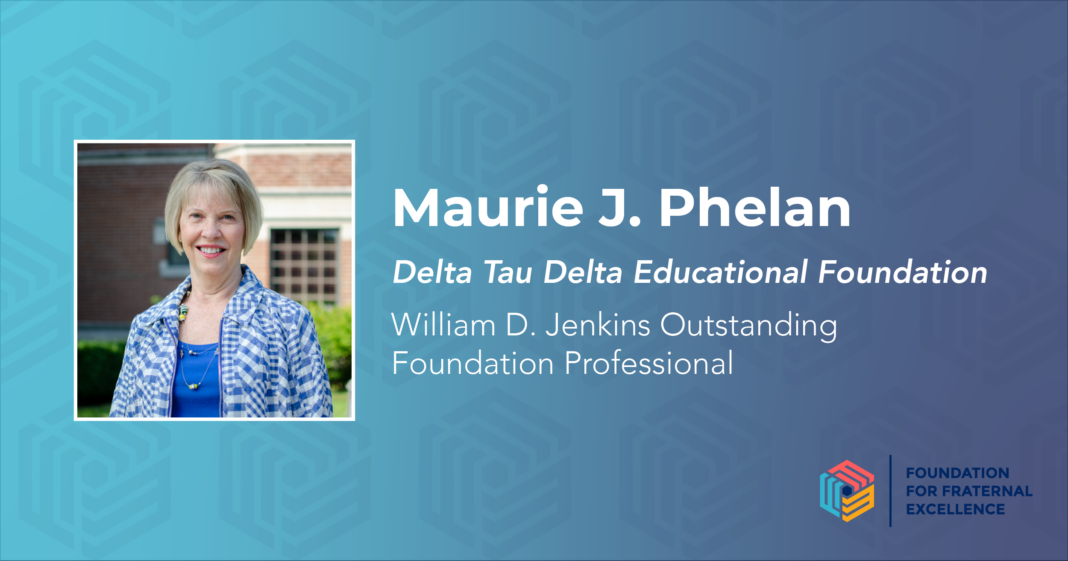 Indianapolis, July 20, 2023 – A leader in fraternal fundraising with an exceptional ability to drive growth, Maurie J. Phelan has a passion for the members she serves. A true champion of Delta Tau Delta (DTD) Educational Foundation's mission and vision, she has served on their team —currently as the vice president of finance and operations — for two decades. 
It is for her energy, focus, loyalty, integrity and ingenuity that Maurie has been recognized as a 2023 William D. Jenkins Outstanding Foundation Professional. Her award will be presented on Tuesday, Aug. 29, during the FFE Awards of Distinction Program, part of FFE Seminar. 
"We would not be the organization we are today without Maurie Phelan! She is just as much a part of our Delt success as our donors and alumni because she has been such a great steward of our resources," shared John Gleeson, former Treasurer of the Delta Tau Delta Educational Foundation. 
She is genuine, honest and driven by relationship building, fundraising and stewardship. She carries out her various responsibilities with patience, grace and a willingness to ensure that donors and those who benefit from DTD grants are put first. 
Known for streamlining and updating procedures to benefit the entire organization, some of Maurie's accomplishments over the last 20 years at Delta Tau Delta include:  
Administered $24.6M in grants to the Delta Tau Delta Fraternity, its chapters and members 

 

Eliminated an operations deficit in 2015 leading to the Foundation's current-day financial success

 

Wrote 500+ executive committee motions 

 

Planned and executed 41 Foundation board meetings, taking minutes for each

 
Developed and oversaw 18 annual budgets; managed 20 successful audits 

 

Provided staff leadership for four comprehensive fundraising campaigns 

 

Directed the Foundation's transition from a volunteer investment committee to an Outside Chief Investment Officer

 

Served as a valued advisor to Ken File and Steve Vedra during their service as Foundation President 

 

Developed and maintained significant relationships with key donors and board members resulting in confidence within the organization that lead to multiple leadership gifts including those of more than $1M 

 
In addition, Maurie has been a member of Alpha Gamma Delta's Foundation Board of Trustees since 2020, serving a variety of board committees to advance their mission and vision. Chief Executive Officer of the Alpha Gamma Delta Foundation Julie Waitman said, "Her intimate knowledge of 'how' fraternal foundations work, and her perspective from working with more than one foundation, have been instrumental in affirming for others 'why' fraternal foundations matter." 
An industry leader who is known for sharing best practices with other fraternal foundation teams and taking newer industry professionals under her wing, Maurie takes great pride in the impact of our collective work. 
### 
ABOUT THE FOUNDATION FOR FRATERNAL EXCELLENCE 
The Foundation for Fraternal Excellence (FFE) cultivates a culture of care, provides connections and supports research across the fraternal community. Often known as the "heart" of a fraternal organization, foundations and fundraising professionals come together to comprise membership and benefit from programs, services and resources for fraternal fundraising. The FFE also provides operational support for established, new and emerging fraternal foundations and works hand-in-hand with several fraternal communities to strengthen and improve the entire fraternity/sorority experience.