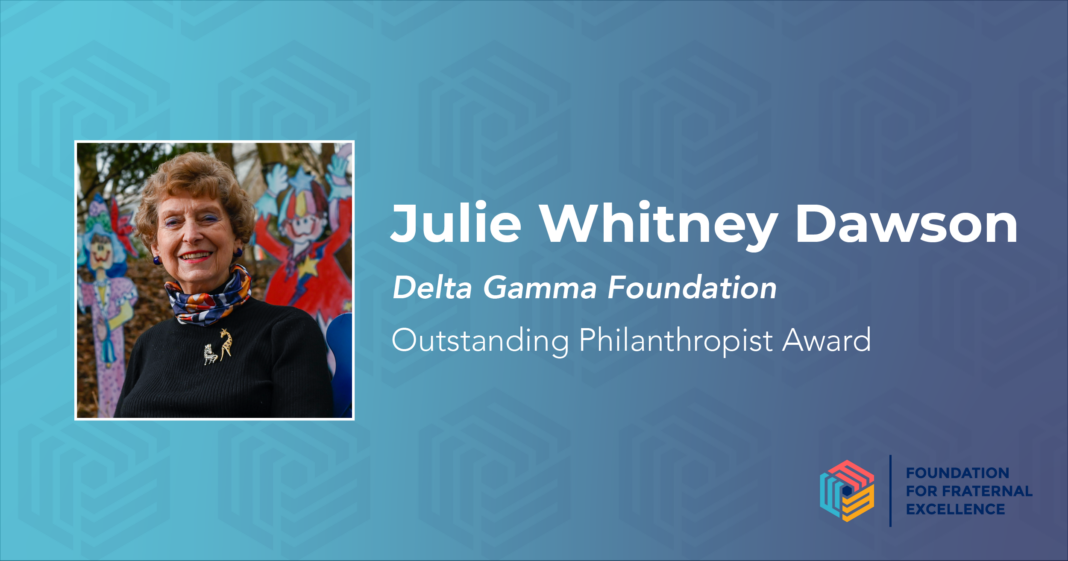 Indianapolis, July 20, 2023 – With an unwavering dedication to women's education and empowerment, Julie Whitney Dawson continues to give generously to ensure the future of leadership programs for Delta Gamma. A prolific artist, author, public speaker, world traveler and for continually giving back to each community of which she is a part, she inspires others to become more compassionate and engaged members of society. 
It is for her kindness, generosity and staunch support that Julie has been recognized as a 2023 Outstanding Philanthropist. Her award will be presented on Tuesday, Aug. 29, during the FFE Awards of Distinction Program, part of FFE Seminar. 
"She truly gives her ALL in creating a better world, and Julie's ALL is making a transformative difference in innumerable lives. The term "philanthropist" is personified by this singular sister," said Wilma Johnson Wilbanks, former Delta Gamma Fraternity International President (2018-2022) and former Foundation Board of Trustees Chairman (2014-2018). 
Initially, Julie's annual gifts were very modest; however, five years ago, she made her first significant investment with the Foundation contributing $25,000. Since that time, she has increased her giving to six figures annually and has committed to gifts totaling over $1M every five years. 
With Julie's gifts funding Lewis Institute, Delta Gamma's values-based leadership program for collegiate members, and soon to fund a similar alumnae leadership experience, the Foundation can expand impactful programming for more participants than ever before. Because of Julie's contributions to fund Lewis Institute, participants were able to walk away having learned:  
"How strong I am and how capable I am of making a change."

 

"How my involvement in Delta Gamma empowers me to continue to live with purpose and capitalize on my strengths."

 

"The power to lead with love in all I do."

 
In addition to her belief in the power of Delta Gamma leadership and training programs, Julie also gives generously to the World Association of Girl Guides and Girl Scouts (WAGGGS) and is an avid supporter of the Beaumont Hospital in Michigan, The Community House, Common Ground and Care House of Oakland County among many others. Extending beyond monetary gifts, Julie also donates her artwork and books to various causes and programs which she believes in. 
Inga Pikse, head of philanthropy and individual giving for the WAGGGS shared, "Julie Dawson's philanthropic impact should not only be measured by the size of her gifts but should be measured by the transformational impact that it will have for years, decades and generations to come. Julie Dawson is transforming the lives of young women in the USA and across the globe." 
Her strong belief in values-based leadership and her magnificent generosity will continue to provide opportunities for women of all ages to truly learn how to better themselves and change the world. 
### 
ABOUT THE FOUNDATION FOR FRATERNAL EXCELLENCE 
The Foundation for Fraternal Excellence (FFE) cultivates a culture of care, provides connections and supports research across the fraternal community. Often known as the "heart" of a fraternal organization, foundations and fundraising professionals come together to comprise membership and benefit from programs, services and resources for fraternal fundraising. The FFE also provides operational support for established, new and emerging fraternal foundations and works hand-in-hand with several fraternal communities to strengthen and improve the entire fraternity/sorority experience.