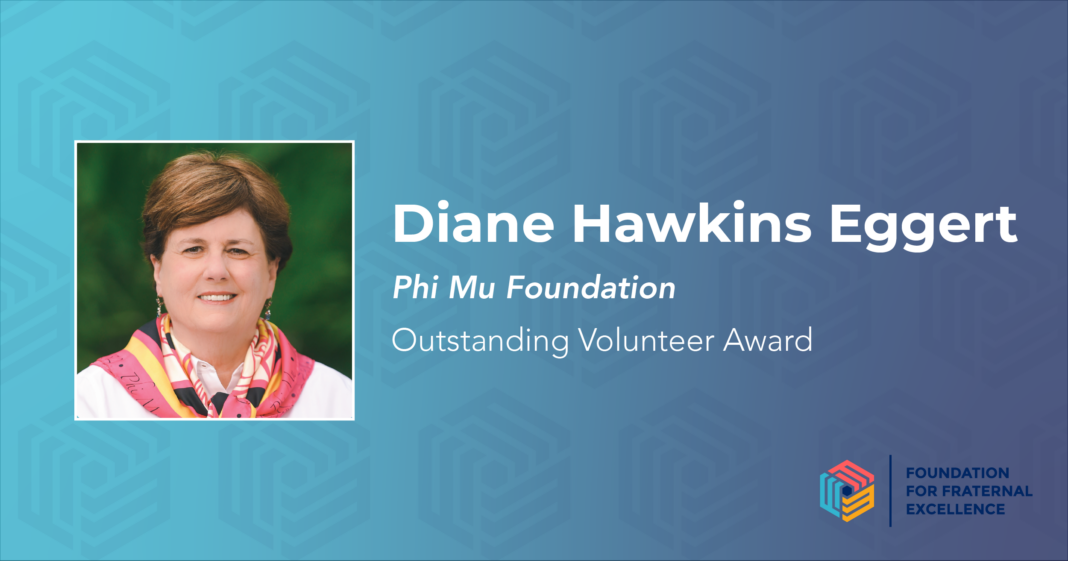 Indianapolis, July 20, 2023 – The Foundation for Fraternal Excellence is proud to announce that Diane Hawkins Eggert, Phi Mu, is this year's 2023 Outstanding Volunteer Award Recipient. Diane is a truly exceptional leader with a ​deep understanding of and love for Phi Mu Foundation's mission, ​having served the ​Foundation and Fraternity for more than thirty years. 
​​Diane will be presented with her award on Tuesday, Aug. 29, during the FFE Awards of Distinction Program, ​as part of FFE Seminar. 
"Under ​Diane's leadership, she has helped us become a stronger, more agile organization and her personal generosity sets an example for every Phi Mu woman to strive toward," said ​Phi Mu Foundation Executive Director Kristin Tofanelli. ​ 
Diane has served on the Phi Mu Foundation Board of Trustees (2004-2018), including as Foundation President, and on Phi Mu​ Fraternity​'s National Council (2006-2010). She has also held numerous other community organization roles, serving Phi Mu alumnae chapters and supporting the Birmingham Alumnae Panhellenic. During her time on the Phi Mu Foundation Board of Trustees, she built a solid infrastructure and supported staff growth, helped create a robust Annual Fund, led the search for the Foundation's Executive Director, and helped educate and inspire the ​Foundation's Board of Trustees​ ​around the One Destiny Campaign.  
​​Diane fit the bill perfectly w​hen it came time to name someone who could be at the helm of the One Destiny Campaign. She walked the walk and promoted One Destiny to hundreds of Phi Mu sisters across the country, making personal contributions totaling more than $170,000 to support the lead pillars of the campaign. Under her leadership, the One Destiny Campaign: 
Raised more than $

20.5

million

far exceeding the $15 million goal

 

Contributions from more than 8,000 individual donors

 

Established 28 new endowments

 
Additionally, ​Diane has served on the Foundation for Fraternal Excellence (FFE) Board of Directors since 2017 – serving for two years as Treasurer – with her board service coming to a close this August. Joining the board at a time of transition for the Foundation, Diane's leadership helped guide FFE through the completion of its first strategic plan and the establishment of its second. ​​ 
"FFE's policies and governance practices have grown monumentally under Diane's leadership, ultimately helping the organization recruit strong board members and better deliver upon its mission to the members," said FFE Executive Director Ashley VanDewark. "She is kind, attentive and unwavering and no task of service has been too insignificant for Diane. I will forever be grateful for all she's given to FFE and the broader fraternal foundation community.​"
Diane's dedication to the organizations and people she serves is unparalleled. And with her love for Phi Mu at the forefront, her personal quest to make sure every member she meets understands the benefits of supporting the Foundation is truly unmatched. 
### 
ABOUT THE FOUNDATION FOR FRATERNAL EXCELLENCE 
The Foundation for Fraternal Excellence (FFE) cultivates a culture of care, provides connections and supports research across the fraternal community. Often known as the "heart" of a fraternal organization, foundations and fundraising professionals come together to comprise membership and benefit from programs, services and resources for fraternal fundraising. The FFE also provides operational support for established, new and emerging fraternal foundations and works hand-in-hand with several fraternal communities to strengthen and improve the entire fraternity/sorority experience.