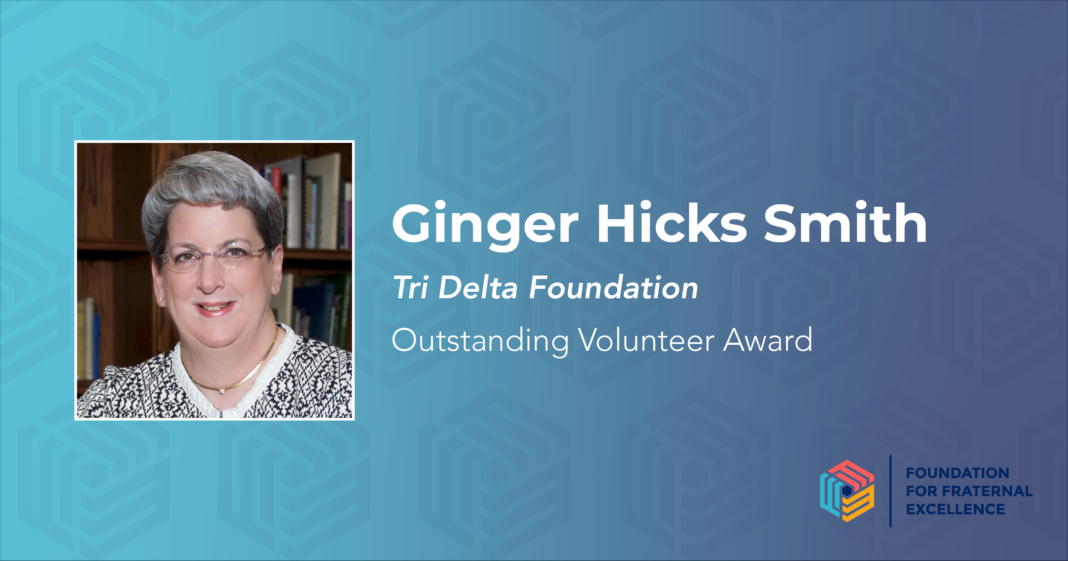 Indianapolis, July 20, 2023 – Embracing Tri Delta's founding tenet of being "kind alike to all," Ginger Hicks Smith inspires all who know her through her dedicated service, thoughtful leadership and purposeful philanthropy.   
It is for Ginger's lifelong volunteerism and philanthropic efforts that she has been recognized with a 2023 Outstanding Volunteer Award. Her award will be presented on Tuesday, Aug. 29, during the FFE Awards of Distinction Program, part of FFE Seminar. 
Beginning her service to Tri Delta by caring for the organization's extensive archives, Ginger has since served Tri Delta Fraternity as an alumna advisor, collegiate district officer, program chair, associate director and Executive Board Director. Additionally, she served for eight years (2008-2016) as a member of Tri Delta's Foundation Board, serving as chair from 2012-2016. Today, Ginger continues to serve the Foundation as a member of the Tri Delta Alliance.  
Knowing the importance of understanding history in securing an organization's future, Ginger made a transformative gift to Tri Delta's Foundation to establish the Ginger Hicks Smith Museum & Archives, housed at Tri Delta's Executive Office. Because of her relationships and leadership, Ginger's gift resulted in many other major gifts in support of the museum, engaging sisters in a new and exciting endeavor.  
More recently, Ginger made a leadership gift to fund the digitization of the Ginger Hicks Smith Museum and Archives, along with the archives from Tri Delta's Alpha Chapter at Boston University. Thanks to her generosity, Tri Delta's members will be able to gain unique access to Tri Delta's rich history!  
Ginger has also contributed her time, talent and treasure to the larger fraternal industry, serving on the Foundation for Fraternal Excellence (FFE) Board of Directors from 2016-2022 – as Secretary for four years and currently on the Nomination Committee.  
FFE Executive Director Ashley VanDewark shared, "Every person – and organization – needs someone like Ginger in their corner! She never misses acknowledging a milestone or event – whether it be a holiday, a birthday, a work anniversary or otherwise – and she makes you feel seen and cared for in a way that compels you to always show up as your best self. She says 'yes' to many thankless jobs, has a knack for grounding those around her in their 'why,' and serves as a guide on the side, supporting many who could not do their jobs without her. And it's largely in part to Ginger's strategic leaning, thoughtfulness and personal engagement that FFE has evolved to serve not only professionals, but also volunteers in our fraternal foundation community." 
Professionally, Ginger worked at her alma mater, Emory University, for nearly 40 years as a librarian and archivist. Given her many contributions and lifetime of service to Emory, including current service as a leadership volunteer for the university's comprehensive campaign presently underway, she was honored with the prestigious J. Pollard Turman Alumni Service Award for exceptional leadership and commitment to the university. And, having a true spirit of philanthropy and volunteerism, she also serves as a board member for several local cultural and community organizations and passionately supports her church. 
Ginger is a trusted friend and advisor to many within Tri Delta, the interfraternal industry and her local community. Her spirit of giving and commitment to steadfast service are incomparable and exemplify true, unselfish leadership.  
### 
ABOUT THE FOUNDATION FOR FRATERNAL EXCELLENCE 
The Foundation for Fraternal Excellence (FFE) cultivates a culture of care, provides connections and supports research across the fraternal community. Often known as the "heart" of a fraternal organization, foundations and fundraising professionals come together to comprise membership and benefit from programs, services and resources for fraternal fundraising. The FFE also provides operational support for established, new and emerging fraternal foundations and works hand-in-hand with several fraternal communities to strengthen and improve the entire fraternity/sorority experience.