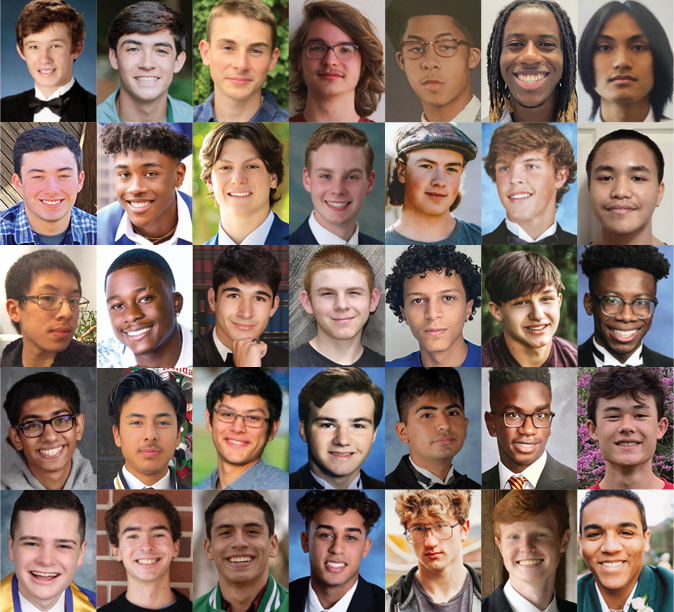 The Foundation for Fraternal Excellence and the North American Interfraternity Conference are excited to announce the recipients of the inaugural Men's College Scholarship designed to identify and reward outstanding high school seniors who have demonstrated an ability to excel in the fields of academics, extra-curricular school activities and community involvement.
Men are going to college with less frequency than in the past, and not persisting to graduation at the same rates as women. According to The Wall Street Journal, at the close of the 2020-21 academic year, women made up 59.5% of college students, an all-time high, and men 40.5%, according to enrollment data from the National Student Clearinghouse, a nonprofit research group. U.S. colleges and universities had 1.5 million fewer students compared with five years ago, and men accounted for 71% of the decline.
To counter this trend, a diverse group of fraternity alumni founded the Men's College Scholarship Program to inspire college attendance and academic success by young men. A college education is important and opens many opportunities to students including the many potential benefits of fraternity membership. In fact, recent research has proven fraternities are more relevant than ever before and foster success in college and beyond.
Fraternities create lifelong connections to campuses, communities and friends. Members are three times more likely to obtain an internship while in college and almost twice as likely to have a job waiting when they graduate. The research has also shown that fraternity members experience stronger mental health and are almost five times as likely to be satisfied with their lives as alumni. (Fraternity membership is not a scholarship requirement.)
The 2022 scholarship recipients represent a wide variety of backgrounds from 29 different states and a third are first generation college students. We look forward to seeing this program grow in future years.
The 2022 Scholarship Recipients:
| First Name | Middle Name | Last Name | High School | City | State |
| --- | --- | --- | --- | --- | --- |
| Carter | Stephen | Albano | Columbia High School | East Greenbush | NY |
| Arjun | H | Athalye | High Tech High School | Secaucus | NJ |
| Devin | A | Davison | G.W Carver Engineering and Science High School | Philadelphia | PA |
| Jordan | Mekhi | Edwards | George Westinghouse College Prep | Chicago | IL |
| Cayden | Michael | Feemster | Bentonville West High School | Centerton | AR |
| Travelian | A | Fields | Plano West Senior High School | Plano | TX |
| Adrian | | Flores | Kapaun Mt Carmel Catholic High School | Wichita | KS |
| Jacob | | Gasior | Maine East High School | Park Ridge | IL |
| Raymundo | | Hernandez Jr. | Cathedral High School | El Paso | TX |
| Michael | Andrew | Howard | Lost River High School | Merrill | OR |
| Haoyang | | Hu | TMI Episcopal | San Antonio | TX |
| Stevan | | Jiang | Monroe High School | Monroe | OH |
| Abdul | Rasheed | Kamara | Eleanor Roosevelt | Greenbelt | MD |
| Michael | Anthony | Lago | Miami Palmetto Senior High | Pinecrest | FL |
| Ian | | Lee | Baltimore City College | Baltimore | MD |
| Raef | | Makrai | Capuchino High School | San Bruno | CA |
| Michael | | Nino | Don Bosco Cristo Rey High School Corporate Work Study Program | Takoma Park | MD |
| John | | Odney | KIPP Academy Lynn Collegiate | Lynn | MA |
| Samuel | | Otchere | Broad Run High School | Ashburn | VA |
| Luis | Alfonso | Perez | Verbum Dei High School | Los Angeles | CA |
| Connor | | Pham | Mater Dei Catholic High School | Chula Vista | CA |
| Fernando | | Rubio | Orthopaedic Hospital Medical Magnet High School | Los Angeles | CA |
| Anthony | | Torres Carrillo | Sumner Academy of Arts & Science | Kansas City | KS |
| Matthew | | Wheaton | King George High School | King George | VA |
| Jonathon | H | Young | Thompson High School | Alabaster | AL |
| First Name | Middle Name | Last Name | High School | City | State |
| --- | --- | --- | --- | --- | --- |
| Jourdan | Lee | Armstrong | Bloomington High School South | Bloomington | IN |
| Garratt | William | Army | Marin Catholic High School | Kentfield | CA |
| Karthik | Alwar | Bagavathy | Neuqua Valley High School | Naperville | IL |
| Ethan | MacLane | Bard | Kinder High School for the Performing and Visual Arts (HSPVA) | Houston | TX |
| Jason | M | Blain | Rancocas Valley Regional High School | Mount Holly | NJ |
| Quinn | P | Brennan | Knoxville Catholic High School | Knoxville | TN |
| Austin | William | Chapman | Naples High School | Naples | NY |
| Colby | Walker | Darnell | Edmond North High School | Edmond | OK |
| Evan | Bradley | Ehlers | William Mason High School | Mason | OH |
| Jordan | | Enarle | Klein Oak High School | Spring | TX |
| Alex | Michael | Gaeto | Albuquerque Academy | Albuquerque | NM |
| Arman | | Gasparyan | Florida Preparatory Academy | Melbourne | FL |
| Chaz | Jameson | Godley | Powers Catholic High School | Flint | MI |
| Blake | K | Green | Theodore Roosevelt High School | Kent | OH |
| Kyle | Andrew | Holtan | Prescott High School | Prescott | WI |
| Peyton | R | Hulighan | David W. Butler High School | Matthews | NC |
| William | Lim | Huynh | Queens High School for the Sciences at York College | Jamaica | NY |
| William | | Kleeberger | Perrysburg High School | Perrysburg | OH |
| Theo | S | Krueger | Mount Mansfield Union Highschool | Jericho | VT |
| Maxwell | Thomas | Kuenzi | Homestead High School | Mequon | WI |
| Cooper | Jonathan | Land | Grace Christian School | Raleigh | NC |
| Caden | | Lasley | Condor High School | Oxnard | CA |
| Tate | Thomas | McDonald | Centaurus High School | Lafayette | CO |
| Akshay | | Mehta | Brownell Talbot | Omaha | NE |
| Ryan | | Mengo | Worthington Kilbourne | Columbus | OH |
| Logan | Perry | Milanovich | Cherry Creek High School | Greenwood Village | CO |
| Timothy | Lynn | Miller III | Trinity Christian Academy | Willow Park | TX |
| Zachary | Thomas | Mommaerts | West De Pere High School | De Pere | WI |
| Nicholas | Ngoc Khai | Nguyen | Cypress High School | Cypress | CA |
| Keshav | | Patel | Canton Preparatory High School | Canton | MI |
| Justin | Tyler | Pecayo | Southwest Career and Technical Academy | Las Vegas | NV |
| Liam | Shuen | Pilarski | Millburn High School | Millburn | NJ |
| James | David | Putt | Tuscarora High School | Leesburg | VA |
| Evan | Robert | Quering | Madonna High School | Weirton | WV |
| Nakai | Lucienstar | Reny-Hamer | Neah-Kah-Nie High School | Rockaway | OR |
| Aleksandr | Joseph | Sallay | Saint Ignatius College Prep | Chicago | IL |
| Alfredo | | Santillan | Antonian College Preparatory | San Antonio | TX |
| Colby | Alan | Snyder | Wilson High School | West Lawn | PA |
| Sakaar | Raina | Sopori | Etiwanda High School | Fontana | CA |
| Blake | Austin | Stanley | Elkhorn High School | Elkhorn | NE |
| Joseph | Innocent | Suek | The School for the Talented and Gifted | Dallas | TX |
| Evan | Robert | Troup | The Woodlands High School | Spring | TX |
| David | Albertonewn | Vaquera | Moriarty High School | Moriarty | NM |
| Rohan | Ram | Vig | Moorestown Friends School | Moorestown | NJ |
| Jonah | | Vinas | La Salle Academy | Providence | RI |
| Ethan | Michael | Waldeck | Wheeling Park High School | Wheeling | WV |
| Joshua | Brent | Whitton | C.E. Byrd High School | Shreveport | LA |