THANKS FOR JOINING US!
Save the date for 2024: August 19-21 in Indianapolis, Indiana
---
Thank you for your continued support of the North American Interfraternity Conference (NIC), Foundation for Fraternal Excellence (FFE) and our programs. Our goal with the Dual Meeting experience is to provide a framework that allows each partner to engage through some – or all! – of the opportunities available and build a blueprint for successful engagement and growth throughout the next year.
Alliance Partner renewals and Dual Meeting registration are now closed. Please contact FFE Executive Director Ashley VanDewark with questions about securing a 2023-24 partnership following the Dual Meeting.
The Dual Meeting experience includes the NIC Annual Meeting of Members and FFE Seminar. You must be an Alliance Partner in order to participate in the meeting.
---
PERKS OF PARTNERSHIP
NIC/FFE Alliance Partners gain industry recognition, enjoy high visibility during programs—like this one—and receive unique opportunities to market to member organizations/members by connecting with the interfraternal industry's key decision-makers and influencers. Businesses and organizations serving the interfraternal community and/or fraternal foundations receive tangible benefits as a result of their participation in the Alliance Partner programs focused on growing their business.
During the Dual Meeting, Alliance Partners will have the opportunity to connect with key decision-makers, executives, staff and volunteers from inter/national fraternities, sororities and their foundations.
Have you joined/renewed your partnership?
Dual Meeting benefits are only available to NIC and FFE partners. To renew or become an Alliance Partner, complete the application below.
The FFE and NIC work together to preserve the fraternity and sorority experience and invest in industry-wide initiatives that advance research and educational-based needs for students, higher education partners and interfraternal organizations. Because of this important collaboration, we created Distinguished Alliance Partner categories that give partners the opportunity to engage with both organizations at the highest possible level.
Questions about the Alliance Partner program? Email FFE Executive Director Ashley VanDewark. Companies/organizations interested in Distinguished NIC & FFE level partnerships should contact Ashley VanDewark.
---
ATTENDING THE DUAL MEETING
Who Should Register
All Alliance Partners (NIC, FFE or both!) are invited to participate in the Dual Meeting.
Alliance Partners should register as individual attendees. The late registration rate is $750 per person. Registration closes on

 

August 15.

If you have complimentary registrations as a part of your Alliance Partnership,

Ashley VanDewark

will email you a coupon code to use when registering after your partnership has been secured and paid.
If you do not have complimentary registrations as a part of your Alliance Partnership OR you want to register additional participants beyond what's included in your partnership package, you will need to register at the late registration rate is $750 per person. Registration closes on

 

August 15.
Location & Lodging
The event will take place at the Indianapolis Marriott Downtown.
A room block is available for attendees at a rate of $179 if booked by Monday, August 14. Cancellation Policy for NIC/FFE rate: Any reservation canceled within 48 hours of arrival date, will be charged for one night's room and tax.
Indianapolis Marriott Downtown
350 West Maryland Street, Indianapolis, Indiana 46225
---
CONFERENCE BENEFITS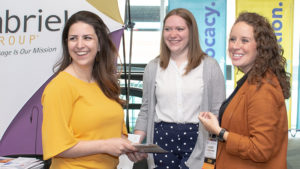 As an NIC/FFE Alliance Partner, when you register to attend the Annual Meeting/Seminar, your business/organization receives these benefits at the conference, in addition to other year-round benefits whether an NIC partner or FFE partner:
All partner benefits:
Invitation to attend 
Advance access to attendee list (timeframe of access to list varies based on partner level)
Recognition at the Alliance Partner Welcome Luncheon
Logo displayed in program book, on event materials/signage and on screen during event breaks
Opportunity to provide promotional materials included in registration packets (read more about this below)
A customizable approach to your meeting experience that grows in value based on the level of your partnership; options include:

Opportunity to host an exhibit table in the Alliance Partner Hall
Opportunity to participate in partner-member speed dating
Opportunity to conduct a demo or present an idea during Ignite sessions
Opportunity to give remarks from the main stage
Click on each of the four opt-in benefits below to learn more about the opportunity.
Alliance Partners exhibit in the Marriott pre-function/hallway space near the Marriott Ballroom (2nd floor).
Set-up: Sunday, Aug. 27 from 12 – 4 p.m., Sunday, Aug. 27 from 8 – 10 p.m. or Monday, Aug. 28 from 6 – 8 a.m.
Tear-down: Wednesday, 7 – 9 a.m.
Your table:
Alliance Partners are assigned to exhibit tables based on their level and tenure of partnership, with both FFE and NIC Alliance Partners in the same area. You will be notified of your placement within the exhibiting area a week prior to the conference.
Each table will be 6' table with two chairs.
An electric drop and/or wi-fi access may be requested by filling out a form with the onsite provider, Markey's. Any associated expense is the responsibility of the Alliance Partner.
Exhibit materials are shipped to/from the property at the Alliance Partner's own expense and are the responsibility of the partner.
What is Alliance Partner-member speed dating? 
Speed dating offers intentional, focused time to meet with key decision-makers from inter/national fraternities and sororities and/or their foundations. The format for this event involves short, timed face-to-face sessions during which time both participants may discuss whatever they like. During the "dating" sessions, participants should collect contact information and take notes on how the partner and member might work together in the future.
Speed dating FAQs: 
What can partners bring to the speed dating session(s)?
Whatever you can fit on your cocktail round, only. Think about what will help you facilitate the initial connection and set you up for follow-up with executives: business cards, brochures/handouts, etc.
No banners/signage, etc. Everything must fit ON your cocktail round. NIC/FFE will provide standard signage for all APs.
How will it work?
Both partners and member organization decision-makers will be asked to rank preferential matches ahead of the Dual Meeting. NIC/FFE staff will then do our best to honor preferences in priority order according to partner level, length of partnership and member ranking alignment. Speed dating assignments will be distributed as a part of pre-conference communication and in registration packets.
A moderator will facilitate timed exchanges during the assigned Speed Dating block (NIC, FFE or both based on partnership).
A map will be provided to participants indicating where APs are located throughout the room.
Just 5 minutes in length, Ignite sessions are meant to spark an idea or conduct a demo. As these sessions are very short, the presenter(s) must be prepared and the presentation must be structured. Ignite sessions take place during breakout sessions.
Ignite presentations are grouped by common general themes such as finance, fundraising, stewardship, technology or volunteer support. During each Ignite session, a moderator will briefly introduce each presentation, then the presentations are given in rapid succession, one following another. At the end, time is set aside for connecting with individual presenters, but there is no formal question-and-answer portion of the session. More information to come on these sessions and how to prepare.  
Alliance Partners are assigned, based on level and tenure of partnership, to a general session, keynote or business meeting for two (2) minutes of speaking time to share more about their company.
Additional benefits by partnership level:
For Distinguished Diamond and Distinguished Titanium partners:

Opportunity to provide

advertisement in the program book

 

For Diamond partners and above:

Invitation to

FFE and NIC Interfraternal Happy Hour

on Sunday before the Dual Meeting, register through the

FFE Research Campaigns Events form

via FS Central
For NIC Gold partners and above:

Invitation to the Governing Council

meeting

on Sunday before the Dual Meeting

For FFE Gold partners and above:

Invitation to the FFE Board meeting

on Monday morning of the Dual Meeting

For Silver partners and above:

Complimentary registration(s)

 
Promotional materials in registration packets:
All partners have the opportunity to submit one (1) piece for inclusion in registration packets; a printed piece may be no larger than 8.5″x11″. Alliance Partners should send 600 pieces to account for all Dual Meeting attendees.
If your company/organization plans to send materials to be included in registration packets, please ship 600 copies by August 1 to NIC/FFE, Attn: Your Company Name, 13702 Beam Ridge Drive, McCordsville, Indiana 46055.
---
SCHEDULE AT-A-GLANCE
View the full NIC Annual Meeting of Members/FFE Seminar schedule of programming and events (schedule subject to change).
Programming runs from Monday, August 28 to Tuesday, August 29 with an optional $50 add-on program Wednesday morning (Fraternal Foundation Fundraising Bootcamp). Additionally, depending on your partnership level, there may be programming on Sunday, August 27 that you will be invited to attend (see key events below).
Event registration opens on the 2nd floor of the Indianapolis Marriott Downtown at 7:00 am on Monday, August 28.
Key times for Alliance Partners include:
Speed dating:


Monday, August 29: 11:30 a.m. – 12:30 p.m. (NIC partners)
Tuesday, August 30: 1:45 – 2:30 p.m. (FFE partners)
Networking breaks in the Alliance Partner Exhibit Hall:


Monday: 10:15 – 10:30 a.m., 2:30 – 2:45 p.m., 3:45 – 4:15 p.m.
Tuesday: 10 –10:15 a.m., 11:15 – 11:30 a.m., 12:45 – 1 p.m. & 3:15 – 3:30 p.m.
Key events for Alliance Partners include:
For Diamond partners and above: FFE and NIC Interfraternal Happy Hour, register through the

FFE Research Campaigns Events form

via FS Central – Sunday, August 27, 5:30 – 6:30 p.m.
For NIC Gold partners and above: Governing Council meeting – Sunday, August 27, 2 – 5 p.m.
For FFE Gold partners and above: FFE Board meeting – Monday, August 28, 8 – 10 a.m.
Welcome Luncheon (light programming with AP recognition) – Monday, August 28, 12:30 – 1:30 p.m.
Networking Reception – Monday, August 28, 5 – 6 p.m.
Enjoy an off-site dinner with your team and/or clients – evening of Monday, August 28
Awards of Distinction Reception & Dinner – Tuesday, August 29 beginning at 5:30 p.m. at The Indiana Roof Ballroom

All APs have the ability to sponsor a table at the dinner program to reserve a spot for their team and/or invite clients to join; a dinner ticket is already included in the price of registration.