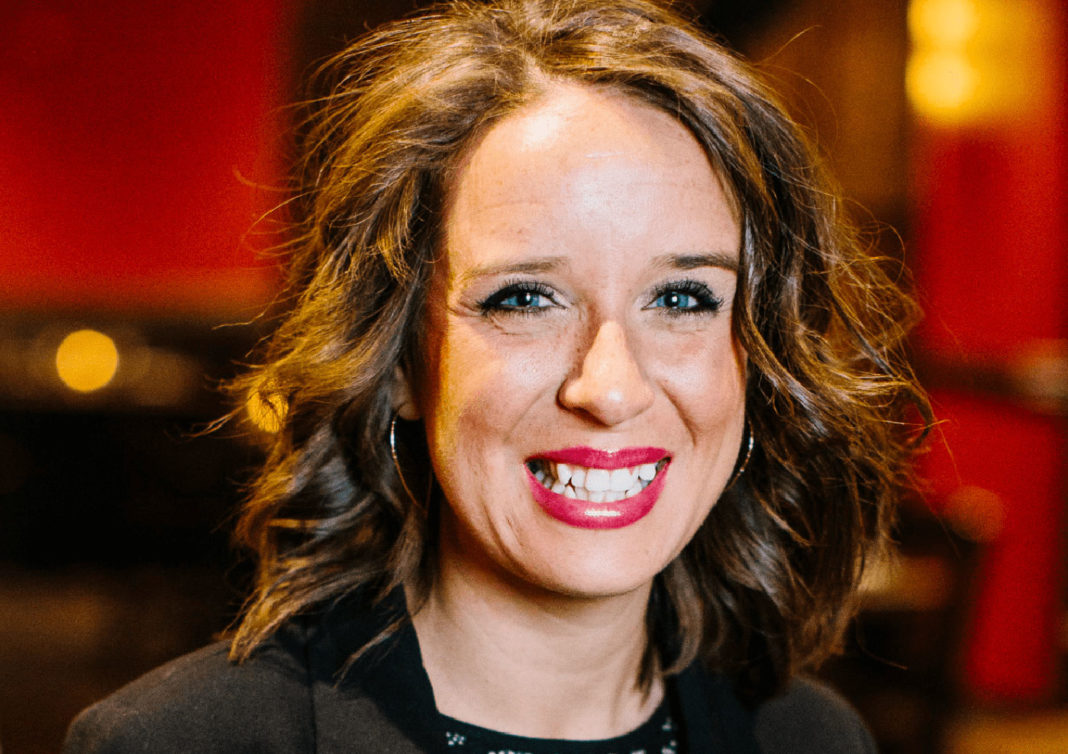 Indianapolis, June 4, 2018—Director of NICF Programs and Services Ashley VanDewark assumed the role of NIC Foundation Executive Director effective June 1. She joined NICF staff in March 2017, and quickly emerged as a visionary leader for the organization.
"Ashley has been doing much of the work of an Executive Director in her first year," said Kitty L. deKieffer, NICF Board President and Gamma Phi Beta Foundation Executive Director. "While this is not a change in responsibilities, it is an acknowledgment of her talent and commitment to the NICF, and I am thrilled we've taken this step."
VanDewark will continue leading implementation of the NICF strategic plan alongside the NICF Board of Directors and North-American Interfraternity Conference (NIC) President & CEO Judson Horras. During her tenure, the NICF has already seen progress in more robust educational opportunities within existing programs and services, providing member organizations with an unmatched resource for fraternal foundation professional development. VanDewark has also set the standard for excellence in customer service to member organizations and donors, as well as in her level of collaboration with Alliance Partners and other key stakeholders to elevate the fraternal foundation industry.
"Ashley has been exactly the right leader for the NICF at the right time," Horras said. "She leaves a mark on everything she does through her attention to detail, keen understanding of organizational development, and most importantly, her passion for the people and work of fraternal foundations. The need for an NICF Executive Director role for the first time speaks to the level she's helped us reach; we are lucky to have her taking the NICF into its future."
VanDewark previously served her organization Alpha Gamma Delta Fraternity as a Leadership Consultant and later as Assistant Director of Fraternity Services-Extension, overseeing establishment and growth of new collegiate chapters. She also gained extensive project and growth management experience as Business Development Manager for an entrepreneurial group that builds businesses focused on providing educational, engagement and experiential opportunities.
"We're embarking on an exciting time for the NIC Foundation as we rebrand, continue growing our programs and services, and strengthen our capabilities to fund industry-critical initiatives," VanDewark said. "It has been a privilege to serve with an incredible Board of Directors. I look forward to the continued impact we'll have on the sophistication of the fraternal foundation community as this new chapter in our organization's history unfolds."
###
ABOUT THE FOUNDATION FOR FRATERNAL EXCELLENCE
The Foundation for Fraternal Excellence (FFE) cultivates a culture of philanthropy and care across the fraternal community. Often known as the "heart" of a fraternal organization, the FFE supports fraternal foundations and professionals as the foremost provider of programs, services and resources for fraternal fundraising. The FFE also offers scholarships to graduate students and professionals for continuing education, operational support for new and emerging fraternal foundations, and works hand-in-hand with fraternal communities and the North American Interfraternity Conference (NIC) to strengthen and improve the entire fraternity/sorority experience. Visit the FFE online at foundationfe.org or on Facebook and Twitter for more information.