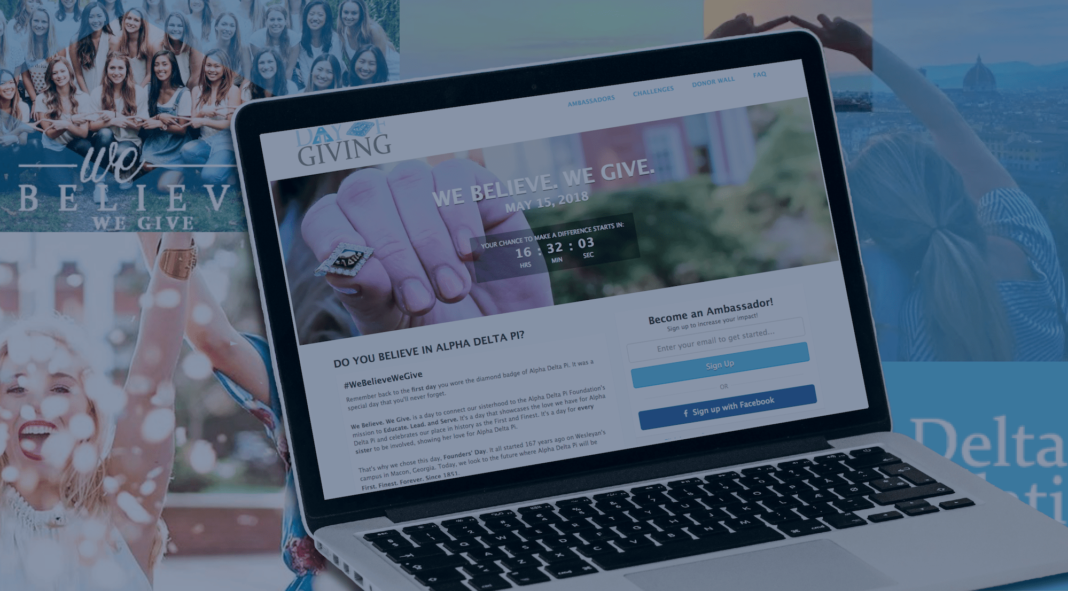 In 2015, Alpha Delta Pi (ADPi) Foundation launched the comprehensive campaign We Believe with a $10M goal. The campaign spoke to reasons members should support the purpose of the organization through charitable gifts and the impact a gift can make.
In summer 2016, as We Believe's targeted ending drew near, ADPi Foundation's Board of Trustees looked for a strategy to build momentum through its final days. What resulted was an historic day of giving—and ADPi's first ever—which raised $393, 681 through 1,718 gifts. It was the largest giving day in fraternal foundation history, but ADPi has since broken their own record—twice. Their 2017 giving day raised over $475k and just this month, their 2018 giving day ended with an incredible $607,125 raised through 1,892 gifts.
CREATING A BRAND WITHIN A BRAND
To maintain the larger We Believe campaign identity but differentiate the newly-added day of giving component, ADPi created a tagline and subidentity – We Believe. We Give. Day of Giving. Giving day was set for Wednesday, July 13, 2016, and focused on:
Giving members a simplified and energizing way to participate in its remaining days
Creating excitement around the campaign's success so far
Drawing attention of those who may not have already been enticed by previous ways to give
Graphics and other digital content for We Believe. We Give. Day of Giving were developed in-house with a look that tied into the visual identity of the overall campaign. More than 150 people were recruited as ambassadors specifically for giving day to amplify visibility of the campaign.
MAXIMIZING DIGITAL TOOLS
We Believe. We Give. strategy was supported by a digital hub called ScaleFunder, a platform integrating social media, email and website capabilities to manage engagement and track the day's progress. Social Media Ambassadors attended a training webinar to learn how to use ScaleFunder and deploy on-brand posts. While ambassadors were publishing hour-by-hour on social media, Foundation staff and interns engaged with donors and members through official ADPi channels to boost reach of the giving day hashtag, #WeBelieveWeGive. The ScaleFunder technology allowed for easy sharing of content across multiple channels and real-time updates on fundraising activity overall, as well as progress of individual ambassadors.
HIGHLY-TARGETED GIVING OPPORTUNITIES
To ensure adequate giving options and increase possibility of more donors, ADPi created many dynamic "Areas of Need" pages on their main giving day website. They were able to track activity and behaviors on the site, and found donors who landed on a specific Area of Need page first converted at a higher rate than those who entered the site from the general home page. There were 15 different areas of need, with each one leading to smaller funds that provided donors with more options to find something aligned with their giving interests. This included opportunities to give directly to a specific chapter, scholarships, archival needs, educational programs and more. Matches, challenges and other gamification methods could be created using the platform and further promoted via social media and email to reach an even more targeted audience.
OUTCOME
Benefits for the Alpha Delta Pi Foundation We Believe. We Give. Day of Giving included:
Approximately 40 percent of gifts came from new or lapsed donors
In addition to matches and challenges established by the Foundation prior to giving day, four challenges were added by donors who wanted to make an impact immediately
The day surpassed a previous record among Greek organizations at $312,000 in a single day
It allowed sisterhood to shine; gifts were made from almost every continent and state, and the first match for 2017 was secured the very next day on July 14
Want to hear more about this campaign first-hand? Alpha Delta Pi Foundation will share even more about this successful giving day in a breakout session at The Foundations Seminar, co-hosted by Sigma Phi Epsilon Foundation and titled "It's Not Your Imagination: Six-Figure Fundraising in One Day."