The Chi Omega Foundation's Sisterhood Never Stops Campaign was the largest completed campaign in women's fraternal history, spanning four years and surpassing its $20 million goal with $27.2 million. From its May 2012 launch to its December 2016 conclusion, 22,920 donors of all ages from 50 states and around the globe—7,033 of them giving for the first time—raised these landmark funds to educate Chi Omega members and preserve the Sisterhood for future generations.
STRATEGIC STRUCTURE AND MESSAGING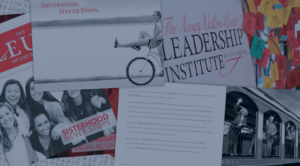 Sisterhood Never Stops was chosen as emblematic of the lifelong and enduring nature of Chi Omega Sisterhood across many aspects of members' lives and relationships. Five primary giving areas provided the Campaign's comprehensive framework: annual fund, educational area housing grants, endowment, scholarships and planned giving.
The public phase of the Sisterhood Never Stops Campaign launched during Convention in June 2014. Throughout the Campaign, eight challenges were issued when nine members stepped forward as challenge donors. An April 2016 all-member mailing resulted in gifts totaling $169,261 and an incredible 555 new alumnae donors contributed. To close the Campaign, the Sisterhood Never Stops video above was produced, which provided a moving visual and auditory component. The Campaign web page provides a comprehensive report of this historic endeavor.
All related messaging conveyed the role each member at every stage of her Chi Omega experience plays in cultivating the character of all Chi Omegas and preserving the Chi Omega experience for years to come. Strong emphasis was placed on the value of each and every gift, to advance the Campaign and the lives of Chi Omegas along with the exponential power of working together to achieve a common goal reflecting great pride in our Fraternity.
"Through the success of Sisterhood Never Stops we learned the tremendous value of team work. It was humbling to see generosity at every giving level, fostering a sense of Sisterhood as each donor gave according to her ability," said Sally Kimball, Executive Vice President for Chi Omega Foundation. "We celebrated that our power lies in the number of participants giving, and worked hard to ensure every donor knew that they were sincerely appreciated as an essential part of this historic collective effort."
THE IMPACT
Sisterhood Never Stops was a soaring success, funding essential resources for Chi Omega's more than 28,000 collegians who annually benefit from programs that impact their health, safety, and wellbeing, as well as resources that advance countless alumnae.
During the Campaign:
100 percent of Chi Omega collegians were provided annual alcohol education.
$601,352 in scholarships were awarded.
Educational areas of 13 chapter houses or facilities were built or renovated.
Leadership development events and educational materials for collegians and alumnae were supported and extended.
…and much more.
Chi Omega Foundation President Letitia Fulkerson shared, "Since the Campaign's conclusion, it has been an inspiration to reflect on the thoughtful planning, strong leadership, service of volunteers, and generous spirit of so many donors in moving Chi Omega forward."