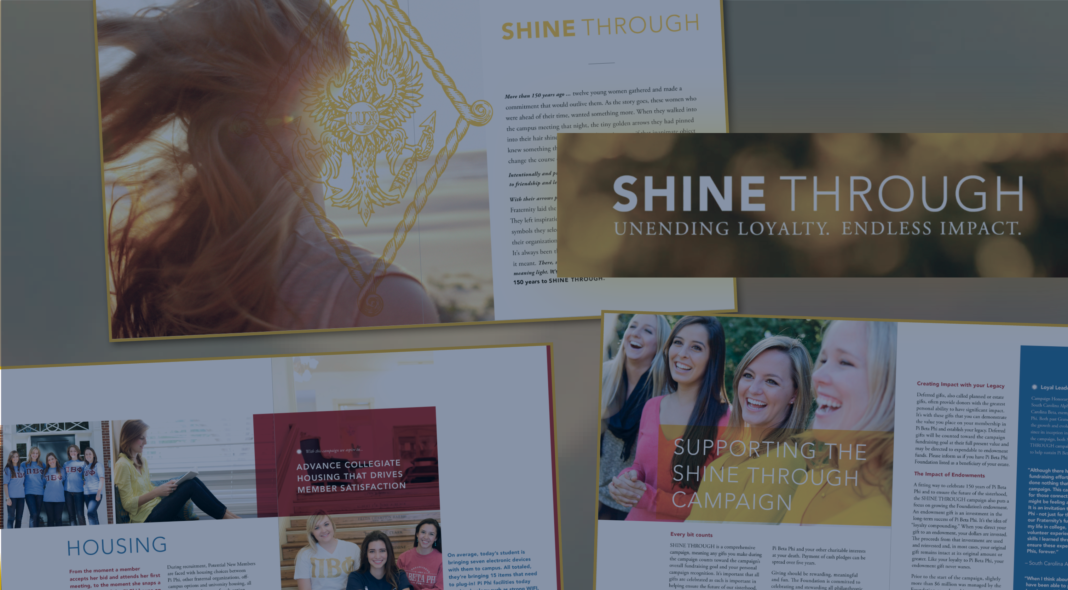 From conceptualization to launch
Pi Beta Phi Foundation recently launched its "SHINE THROUGH" campaign in conjunction with the energy and excitement of the Fraternity's 150th anniversary this year. This multiphase initiative was publicly announced at Pi Beta Phi's 2017 Convention in late June, with a $28 million goal and $19.7 million in gifts to the campaign already confirmed.
SHINE THROUGH takes its inspiration from the word LUX, meaning light, which is in the center of Pi Beta Phi's crest. The campaign aims to inspire unending loyalty and endless impact, and it seeks to sustain Pi Beta Phi through five aspirations:
Build operations resources to leverage growth and sustainability
Prepare members to lead in collaborative and innovative ways
Provide collegians and alumnae with financial support to access increasingly expensive education
Champion literacy initiatives that inspire readers to reach their true potential
Advance college housing that drives member satisfaction
Foundation professionals know that a campaign announcement and launch actually involves years of planning and strategy before, during and after the campaign. Pi Beta Phi shared with the NICF the steps they took, challenges they've faced and inspiration they've used for an in-depth look at this exciting campaign.
Gathering inspiration & building a team
SHINE THROUGH is led by Pi Beta Phi Foundation's Board of Trustees (11 members), a Campaign Cabinet (9 members), and the Foundation's professional staff (10 members). In 2015, with the help of campaign counsel Kelly Wesley Taylor of Trek Advancement, the team conducted a feasibility study. Campaign leadership strives to be innovative, collaborative and authentic, presenting a campaign that reflects such attributes.  "Without a doubt, the Fraternity's 150th birthday, celebrated through 2017, was a significant driver in considering a campaign. Pi Beta Phi Foundation's mission is to 'ensure the future of our sisterhood,' and it only seemed appropriate to consider what the next 150 years will old for Pi Beta Phi as we celebrated the first 150 years," said Shawn Eagleburger, Senior Director of Strategic Initiatives.
The Board's original discussion was to test a $10 million campaign; however, conversation led by a then trustee who later became the Chairman of the Campaign Cabinet, encouraged the board to take a leap of faith and test a $20 million campaign. The success of the silent phase challenged the Campaign Cabinet and Board of Trustees to increase the goal, and a $28 million goal was determined. Coincidently, the Fraternity was founded on April 28.
"First and foremost, the success of the campaign can be attributed to a Board of Trustees willing to invest in a successful campaign," Eagleburger said. "The board continues to say to the staff, 'tell us what you need.'"
Additional staff was hired to support the campaign, specifically a former Fraternity staff member who was hired to capitalize on established relationships with potential donors and help bridge gaps between the Foundation and Fraternity in terms of knowledge of Fraternity programs. Staff management of the campaign was outside of the traditional development staff team as to prevent the campaign from stealing focus from the normal development operations, while complimenting existing efforts.
A focus on member engagement
In addition to raising funds for its five determined aspirations, SHINE THROUGH is also a member-engagement opportunity. Instead of focusing visits on the efforts to the Foundation, the focus of visits has further shifted to providing an update on the goals and successes of the Fraternity, Foundation and Fraternity Housing Corporation. This has provided an opportunity to bring members – with whom the Fraternity might not otherwise be able to connect – back into the fold. An example of this philosophy is in promoting housing, a clear priority for the Fraternity, as a key feature in the case for support even though this funding area was of less interest to donors during feasibility.
Committed and passionate volunteers have been vital to the success of the campaign. Each member of the Board and Trustees and Campaign Cabinet work donor portfolios in partnership with staff. Strategy is provided by the staff member who equips the volunteer to have stewardship and solicitation conversations. Volunteers report back on donor interactions via an online Donor Visit Report which informs next steps and future action.
The use of innovative technology has also supported the success of the campaign. All Campaign Cabinet members were issued an iPad to share the most updated version of an interactive Case for Support with prospects as well as use Trek Advancement's GiftNavigator to unlock donor capacity with deferred gifts. Donors have been invited to stay updated on the success of the campaign through joining a text-message listserv, enabling donors to raise their hand for more information and providing a new (and more effective) communication avenue for the Foundation.
Campaign challenges & successes thus far
"A question in my head is often, how could we have been more prepared to take on a campaign of this magnitude?" Eagleburger said. "I'm often assured no one is ever perfectly ready for what a major campaign will bring. Sometimes you have to build the airplane while you're flying it. In our case, the time was right for the Pi Phi – the lead gift was there – and a resounding yes from our membership in the feasibility study."
An additional challenge will be keeping an eye on what's next. How will this campaign – specifically with the size of the campaign goal – set up future campaigns?
Overall, SHINE THROUGH has already rejuvenated many aspects of Pi Beta Phi. "It's a reason for members who are slightly disconnected to reengage. It's a reason to be proud. It's providing new ownership of the organization to more people. It's reinforced connections between the three entities – the Foundation, Fraternity and Fraternity Housing Corporation – and inspired great collaboration to ensure the future of Pi Beta Phi."