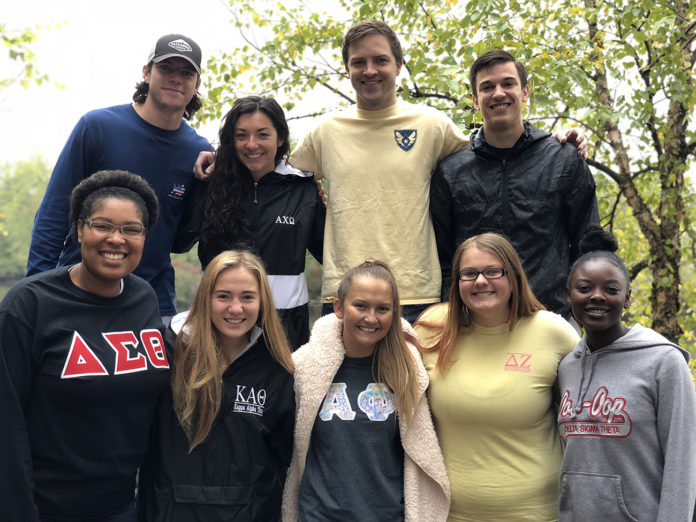 ABOUT
The Foundation for Fraternal Excellence (FFE) exists to support organizations and individuals invested in developing the next generation of fraternity/sorority leaders. Because a healthy, positive fraternity/sorority experience acts as an incubator for leadership and personal development, the FFE has a responsibility to protect and preserve the integrity of that experience in partnership with our 70 member organizations and their associated professionals and volunteers.
FFE believes in coordinating and sharing research to help inform data-driven decision making within the fraternal industry. In delivering on this priority, FFE:
Champions research on the value of the fraternity/sorority experience in partnership with key fraternal stakeholders.
Fosters a culture of exploration and insight into the fraternal industry by encouraging key stakeholders to utilize FFE as the vehicle to facilitate research on their specific interests through sponsored research grants.

Surveys member organizations

to gather industry specific fundraising and management data and reports out on insights gained.
Additionally, to encourage and support the study and dissemination of high-quality research on the fraternal experience, the Foundation for Fraternal Excellence makes available small grants to research fellows engaged in studies which advance FFE's Research Agenda.
PLANNING AND PRIORITIES
FFE reviews and updates its research agenda regularly. FFE will consider topics and proposals that advance the organization's mission even if they are not formally outlined below. FFE also reserves the right to decline research projects which are fundamentally adverse or in conflict with FFE's priorities.
The following list, while not comprehensive, includes topics which have been endorsed by the FFE Board of Directors in alignment with the current strategic plan.
Potential Sponsored Research Topics:
Replication and expansion of previous studies on the fraternal experience, such as:

Biddix (2014) First-Year Retention and National Panhellenic Conference Sorority Membership: A Multi-Institutional Study
Pike (1997) The Influence of Fraternity or Sorority Membership on Students'
College Experiences and Cognitive Development

Replication and expansion of previous studies on fraternal fundraising, such as:

Cygnus Applied Research (2011) NICF Donor and Alumni Engagement Survey
Cygnus Applied Research (2015) NICF Donor and Alumni Engagement Survey

Value of the Single-Sex Experience: Does the single-sex experience make a difference?
Fraternity and Sorority Members and Fatalities: Comparison with non-affiliated students
Fraternity and Sorority Members and Sexual Misconduct: Comparison with non- affiliated students
Potential Research Fellows Topics:
Fraternity, Sorority and Alumni Engagement: Comparison with non-affiliated students with organizations;

with their institutions;
engagement in the community after graduation;
engagement with each other;
volunteerism – for organization, for communities, for college;
giving and participation – for organization, for communities, for college

Fraternity/Sorority Membership and Bystander Intervention: Comparison with non- affiliated students
Fraternity/Sorority Members and Depression: Comparison with non-affiliated students
Fraternity/Sorority Members and Loneliness: Comparison with non-affiliated students
Fraternity/Sorority Members and Suicidality: Comparison with non-affiliated students
Fraternity/Sorority Members and Retention: Comparison with non-affiliated students
Fraternity/Sorority Members and Graduation Rates: Comparison with non-affiliated students