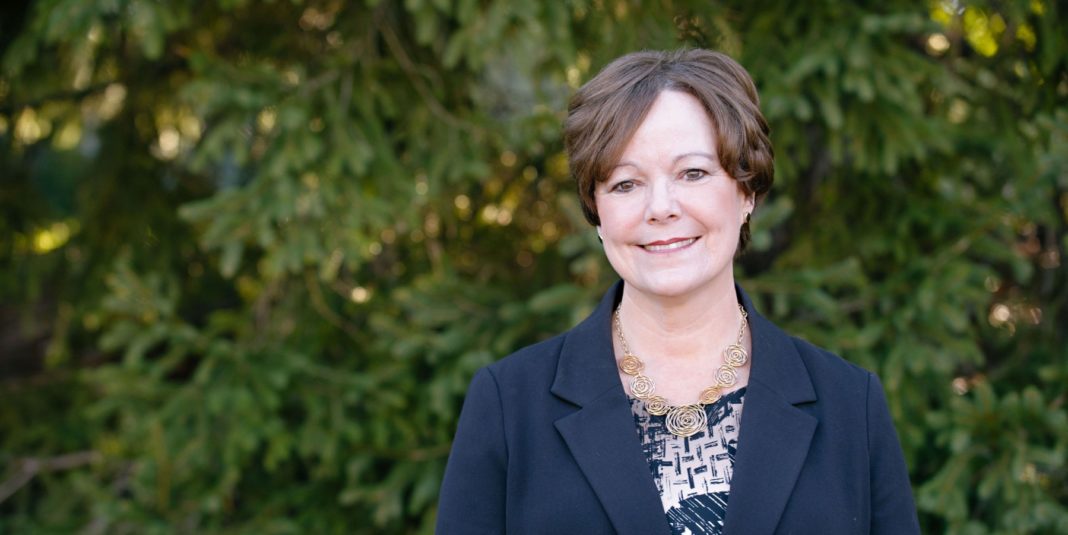 Indianapolis, July 12, 2018—Alpha Gamma Delta Foundation Executive Director Julie Waitman is the 2018 recipient of the North-American Interfraternity Conference Foundation's (NICF) William D. Jenkins Award for Outstanding Foundation Professional in recognition of her service to the Alpha Gamma Delta Foundation.
Waitman joined Alpha Gamma Delta's Beta Beta Chapter at North Dakota State University. Upon graduation in 1980, she became a member of the fraternity's traveling Leadership Consultant team and later accepted a permanent position on staff as Director of Chapter Services. In 1992, Waitman became Executive Director of Alpha Gamma Delta Fraternity and served in this role for the next nine years.
"Julie has been a champion for the fraternal world throughout the entirety of her membership," said Lindsay Jarman, Interim Executive Director of Alpha Gamma Delta Fraternity. "No member has interacted with Julie and NOT been inspired by her core belief that we exist to educate and empower women and to better serve others. Julie is the heart of what we represent—she pushes us as a Fraternity to live our mission daily so the Foundation can also maximize its impact."
Waitman has served as Executive Director of the Alpha Gamma Delta Foundation for over a decade. Her colleagues say the Foundation has flourished under her leadership because of her drive to implement innovative fundraising techniques and new ways of reaching and supporting members. During her tenure, the Foundation has introduced a crowdfunding giving portal, implemented a mission-focused strategic plan, and utilized giving trend data from Cygnus Surveys. The number of individuals participating in the Foundation's annual campaign, giving recurring gifts and joining planned giving societies has dramatically increased and the Foundation has grown its annual educational, Fraternity leadership and philanthropic grants by 130 percent. She has helped establish new programs like Educational Area Grants and Disaster Relief Grants, as well as a General Endowment Fund that allows the Foundation to focus on further support for education, philanthropy and leadership development. In 2018, Julie oversaw the launch of a new philanthropic granting program, the Fighting Hunger Grants, which doubled from the previous year and awarded $250,000 to 36 nonprofit organizations.
"I can think of no other community colleague who exudes the positive spirit and commitment to our collegiate women and men, and the professionals serving our sisters and brothers," said Ben Nicol, CEO of Phi Kappa Psi Foundation and past Jenkins Award winner. "Julie has an infectious, positive and welcoming personality, which is matched by her drive, excellent communication and authentic demeanor."
Waitman believes collaboration among all entities of Alpha Gamma Delta is crucial to success. She recently led the charge to update the Partnership Agreement between the Fraternity and Foundation and worked alongside the Foundation's Board of Trustees on a four-year, cross-organizational strategic plan to align the organizations' priorities and maximize Alpha Gamma Delta's positive impact. She is also a committed member and supporter of the larger fraternal foundation community, made evident by her past service on the NICF Board of Directors for six years.
"I'm completely honored to be recognized as a recipient of the William D. Jenkins Award," Waitman said. "Bill was one of the first fraternal professionals I met when I began serving the Fraternity, and I still recall his calm, caring and wise persona. The genuine heart of our fraternal foundation community is a rare gift and I love working for a values-based organization that holds development of women as leaders and philanthropists as its mission. What could be better?"
The William D. Jenkins Outstanding Foundation Professional Award will be presented on Tuesday, Aug. 28, during the NICF Awards of Distinction Dinner, held in conjunction with The Foundations Seminar.
###
ABOUT THE FOUNDATION FOR FRATERNAL EXCELLENCE
The Foundation for Fraternal Excellence (FFE) cultivates a culture of philanthropy and care across the fraternal community. Often known as the "heart" of a fraternal organization, the FFE supports fraternal foundations and professionals as the foremost provider of programs, services and resources for fraternal fundraising. The FFE also offers scholarships to graduate students and professionals for continuing education, operational support for new and emerging fraternal foundations, and works hand-in-hand with fraternal communities and the North American Interfraternity Conference (NIC) to strengthen and improve the entire fraternity/sorority experience. Visit the FFE online at foundationfe.org or on Facebook and Twitter for more information.