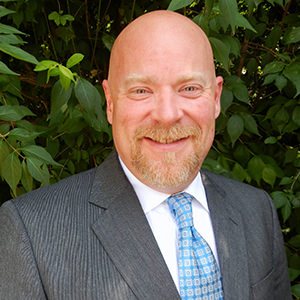 Indianapolis, September 14, 2022 – The North American Interfraternity Conference (NIC) and Foundation for Fraternal Excellence (FFE) announce the departure of Mike McRee as Chief Operating Officer on Sept. 23. On Sept. 26 he will begin his tenure at Offprem Technology as the director of education, nonprofit and government solutions.
As COO since 2016, McRee has served both the NIC and FFE as the primary contact for all Alliance Partner initiatives and supported institutions in the Midwest/Western U.S. and Canada on the campus support team. "Mike's leadership has been invaluable to the NIC and FFE. We can't thank him enough for his outstanding contributions that contributed to the advancement of fraternities and sororities," said Judson Horras, NIC president and CEO.
With McRee's departure, FFE Executive Director Ashley VanDewark will assume all Alliance Partner communication and initiatives and NIC Vice President of Campus Support Dan Faill will support campuses in the Midwest/Western U.S. and Canada.
"I am humbled and honored to have had the opportunity to serve and work for so many valued staff, headquarters, campus and alliance partners, students, colleagues and mentors at the NIC and FFE for the past six and a half years," said McRee, "Our staff believes that relationships move the needle and I feel lucky to have developed and learned from so many others along the way. I know our member organizations and campuses will be in excellent hands with Jud, Will and the campus support team and I couldn't be more excited that Ashley will be taking over our Alliance Partner program."
VanDewark has served as FFE's executive director for four years. In this role she has worked closely with McRee regarding the Alliance Partner program largely as it relates to NIC/FFE events including the Annual Meeting of Members, Seminar, Summit and Advance. Alliance Partners can begin directing communication to VanDewark at ashley.vandewark@foundationfe.org as she transitions to assume this role.
In addition, FFE is excited to announce that a new position has been created to support both NIC and FFE programs and events. The Director of Programs will support FFE's mission of enhancing the skills and knowledge of associated professionals and volunteers as well as the NIC's mission to enhance the fraternity experience. This role will manage impactful industry programs including but not limited to Seminar, Summit, Advance, PRIME, IFC Academy, Launch, IMPACT, NIC/FFE awards programs and more.
The Director of Programs position description can be found on the NIC and FFE websites with applications directed to VanDewark at ashley.vandewark@foundationfe.org. McRee can be reached at mikemcree@gmail.com.
###
The North American Interfraternity Conference is the trade association representing 58 inter/national men's fraternities. The NIC's member organizations boast more than 6,000 chapters located on more than 550 campuses in the United States and Canada, with approximately 250,000 undergraduate members and nearly 4.2 million alumni.
The Foundation for Fraternal Excellence is comprised of more than 65 men's, women's and co-ed fraternal educational foundations and operates to advance the various needs of the dynamic industry. The FFE provides operational support for new and emerging fraternal foundations, working hand-in-hand with various fraternal communities and the NIC to strengthen and improve the entire fraternity/sorority experience through a culture of care, connection and research.