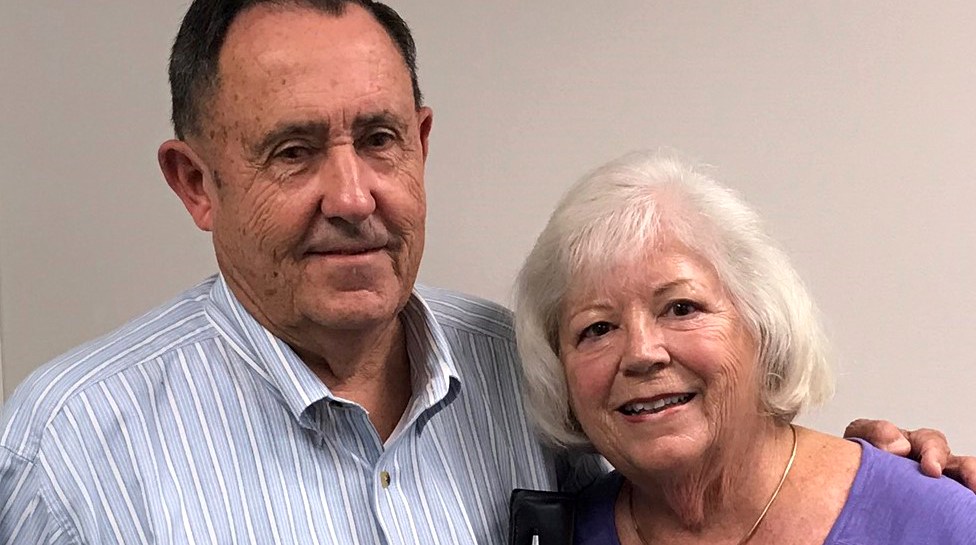 Indianapolis, July 12, 2018—Pat and Ed Evans of Auburn, Alabama, are 2018 recipients of the North-American Interfraternity Conference Foundation's (NICF) Outstanding Philanthropist Award in recognition of their lifetime generosity to the Alpha Delta Pi (ADPi) Foundation.
Pat Johnson Evans joined ADPi's Beta Omega Chapter at Auburn University and later served as its Chapter Advisor in the 1960s and early 1970s. Her husband Ed Evans, an alumnus of Sigma Alpha Epsilon at Auburn, has been a steadfast supporter of Pat's desire to give back. He recognizes the legacy of leadership his wife has given to ADPi through her years of service, as well as the leadership potential it offered their daughter when she followed in her mother's footsteps and now for two of his granddaughters who have already joined.
"Pat and Ed are living examples of what they were both taught through their membership in Alpha Delta Pi and Sigma Alpha Epsilon," said Tracy Garner, Alpha Delta Pi Foundation President. "For them it isn't about the money, and it isn't about the recognition, but it is about the opportunity to genuinely help others."
Pat began giving to the Foundation in 1986, just three years after it was established, and has made a gift nearly every year since. Over time, Pat and Ed have become more than donors to the Foundation—they are visibly committed to its mission and purpose through the thought and planning of their contributions. During ADPi's We Believe Campaign, they were one of nine donors to make a personal commitment of $100,000 or more; with this, they established the Pat Johnson Evans Scholarship Fund for Beta Omega Chapter members. Pat was motivated by her observation of young women serving as executive chapter officers and struggling to work and earn their own money at the same time, and decided the scholarship would give preference to members in this situation.
Pat's extraordinary level of commitment to and compassion for ADPi and its members extends beyond giving to the Foundation. Pat served in various International Officer roles leading up to her election as Grand Vice President of Finance on the ADPi Grand Council. When her term ended, she continued to serve Beta Omega Chapter as Finance Advisor. She's known for encouraging women to pursue leadership positions and will often help ensure they stay accountable when serving at the international level.
Those on Foundation staff and in various other roles also consider Pat and Ed to be trusted advisors who give back with their knowledge and expertise just as generously as they give in other areas. Pat was an accounting instructor at Auburn University for many years, and together they own Evans Realty and J&L Construction, making them both knowledgeable about financial management, real estate investing and accounting. They don't hesitate to spend time advising ADPi leaders on financial matters, and are also known throughout Auburn for giving the same support to various organizations in the community.
"Philanthropy is a learned behavior—not only do Pat and Ed teach philanthropy, they live it and inspire others," Webb said. "While they may not recognize the overall reach of their philanthropy and Pat's overwhelming volunteer involvement in Alpha Delta Pi, I am certain that hundreds—and even thousands—of women have made personal commitments because of Pat and Ed and their leadership through example."
The Outstanding Philanthropist Award will be presented on Tuesday, Aug. 28, during the NICF Awards of Distinction Dinner, held in conjunction with The Foundations Seminar.
###
ABOUT THE FOUNDATION FOR FRATERNAL EXCELLENCE
The Foundation for Fraternal Excellence (FFE) cultivates a culture of philanthropy and care across the fraternal community. Often known as the "heart" of a fraternal organization, the FFE supports fraternal foundations and professionals as the foremost provider of programs, services and resources for fraternal fundraising. The FFE also offers scholarships to graduate students and professionals for continuing education, operational support for new and emerging fraternal foundations, and works hand-in-hand with fraternal communities and the North American Interfraternity Conference (NIC) to strengthen and improve the entire fraternity/sorority experience. Visit the FFE online at foundationfe.org or on Facebook and Twitter for more information.