Delta Gamma's collegiate chapters continue to be the Foundation's largest fundraisers collectively raising $2.38 million last year. Yet, chapters were seeking a way to support both the DG Foundation and local organizations where they facilitate service projects and do hands-on work toward the Foundation's philanthropic mission of Service for Sight.
Enter Delta Gamma's Chapter Giving Program. This unique program offers a way for chapters to receive credit for their gifts to the Delta Gamma Foundation, while also giving to local 501(c)(3) organizations that share the Foundation's Service for Sight mission. This allows collegiate and alumnae chapters to maintain their strong presence with charities in their local areas.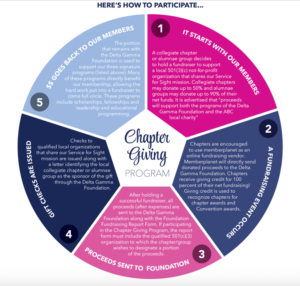 Following a fundraiser, collegiate chapters may designate up to 50 percent of their proceeds, and alumnae groups may donate up to 90 percent locally. The remaining funds stay with the Delta Gamma Foundation to support its three signature programs: Service for Sight, grants to the Fraternity for Leadership and Educational Programing, and grants to Individual Members. Chapters may participate whether their fundraisers are tax deductible or not.
Further, this program helps connect the Foundation to chapters and provides the opportunity to support and educate the chapters on fundraising best practices.
"We now have a better idea of how much money is being raised by our chapters because they are sending the proceeds to the Delta Gamma Foundation," said Rachel Hamil, Delta Gamma Foundation Annual Giving Officer and Development Specialist. "Since the Foundation sends the checks to the local organizations that share our Service for Sight mission, we are also now able to maintain those relationships, and advance the knowledge of all the programs of the Delta Gamma Foundation."
FFE recognized this program with a 2018 Award of Distinction for Best Campaign/Program in Support of an Outside Philanthropy.