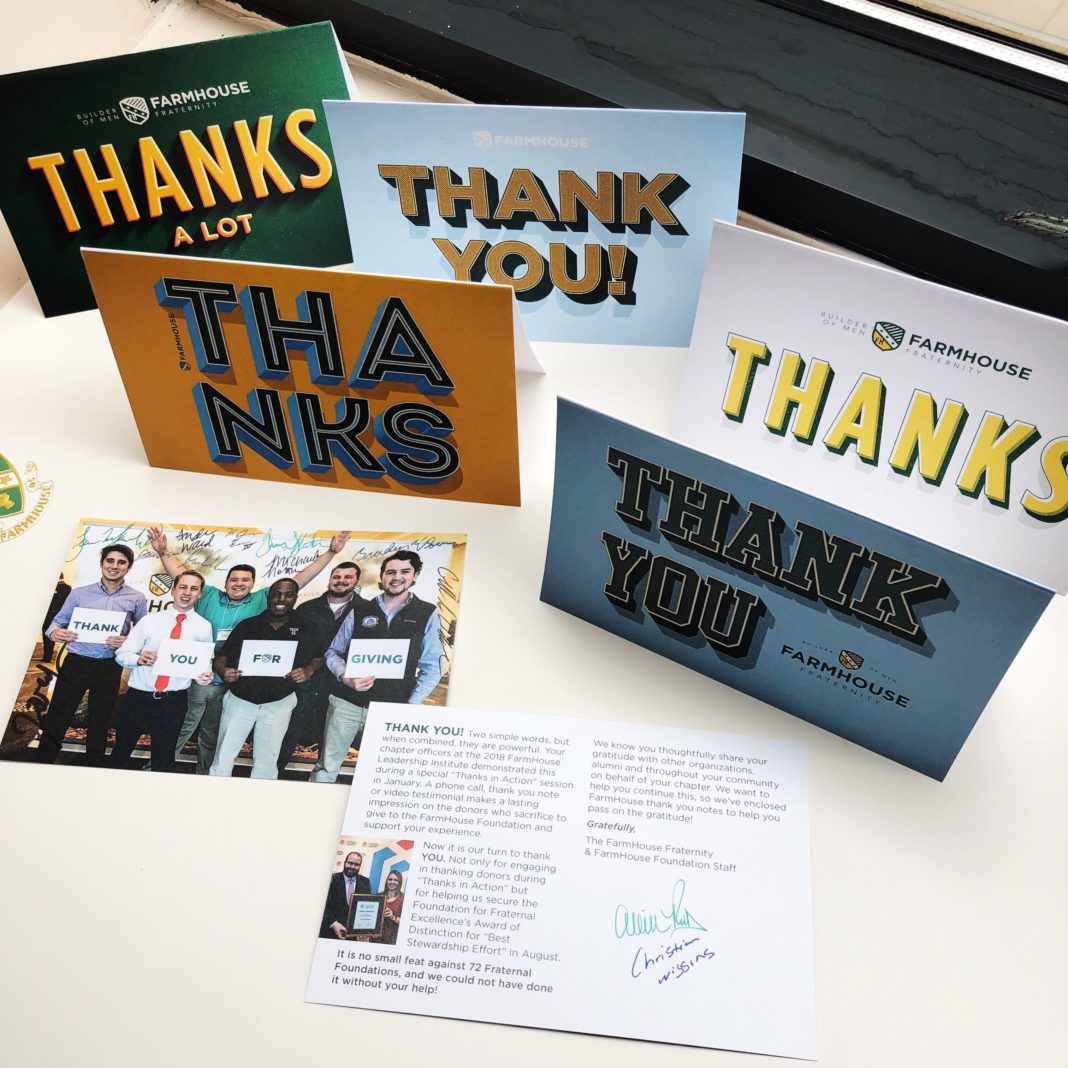 The FarmHouse Leadership Institute (FLI) is the Fraternity's premier officer training program. It is fully-funded by FarmHouse alumni and friends each year through the FarmHouse Foundation. Undergraduate attendees attend at no personal cost. In 2018, FLI was expanded to six officers per chapter and remained fully-funded with a grant of $134,365.27 to the Fraternity.
This generosity deserved a special stewardship effort, so the Foundation created a materials for FLI donors and asked the program's attendees to help the Foundation demonstrate its sincere gratitude and the program's impact.
Undergraduates were asked to say "thank you" in seven different ways during a session at FLI called "Thanks in Action," including:
Writing handwritten thank-you notes
Calling donors
Sharing a testimonial
Giving a quick video shout-out
Taking group and chapter pictures
Being asked to make a donation to the Foundation
Taking a large group photo with a thank-you sign
The Foundation made the experience fun and engaging with music playing, shared easy tools and tricks about stewardship, and gave them time to interact with other attendees. Students participated with energy and enthusiasm and learned more about the Foundation in the process.
"Organization was key," said Allison Rickels, Executive Director of The FarmHouse Foundation. "Our staff was well prepared with a facilitation guide, calling scripts, notecards, testimonial forms, as well as had dedicated staff members to take pictures and videos."
The week after FLI, each donor received a copy of the group picture and a thank-you card from a student attendee. Later in the month, the Foundation sent the donors a mailing with an impact report, results of the FLI experience, testimonials, and a donor list.
"The biggest benefit is we have been able to use all of these student-driven stewardship pieces throughout the year – to create videos, pictures for our website and publications, to promote our Day of Giving, send Valentine's Day cards with handwritten notes, and help continue to cultivate and steward our donors," said Rickels.
FFE recognized this program with a 2018 Award of Distinction for Best Stewardship Effort.