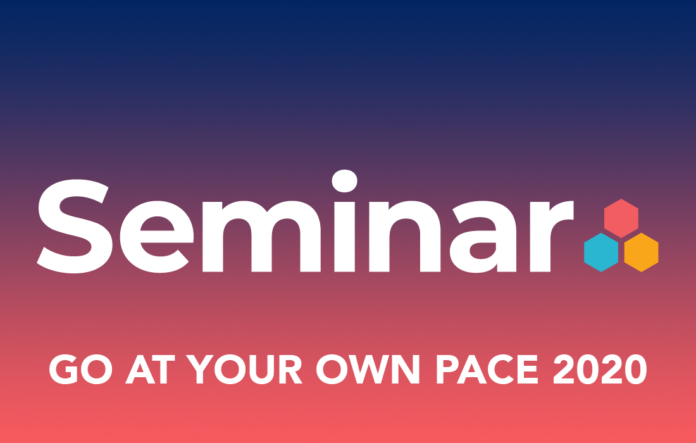 Supplement Your Seminar Experience!
These pre-recorded sessions support the live curriculum being offered August 24-26 through FFE's flagship Seminar program, which gathers more than 700 professionals and volunteers in advancing the fraternal fundraising industry.
Most live tracks have at least one supplemental recorded session that is approximately 15 to 25 minutes. View the video by choosing the WATCH link next to each session title. Thank you for taking this journey through FFE … at your own pace!
We suggest viewing before or during breaks in the Seminar schedule to add to the richness of conversations and learning among peers, particularly in the Moderated Discussions.
Have your team "divide and conquer" these sessions. Just as you would at an in person event, watch different recordings then come together to debrief what you've learned and discuss key takeaways and application for your own organization.
These sessions will continue to be available following the live Seminar program — and we will be adding more as recordings from the live event are completed.
Leadership Series
Volunteer Engagement: Guiding through the Stages of the Volunteer Life Cycle | WATCH
Rachel Ray, Director of Programs, Alpha Phi Foundation

In this session, Rachel Ray, a foundation programs professional, walks through her lessons learned and experiences in volunteer management that have been used to advance Alpha Phi Foundation programs. This session covers a four-step volunteer life cycle of recruiting, training, supporting, and stewarding volunteers. Covering tried and true methods as well as innovations coming out of COVID-19, this session shares what has worked well for Alpha Phi Foundation, in hopes that it can help you further engage your foundation constituents intimately in your programs.
Management Series
Fraternal Foundation Grantmaking Basics | WATCH
Heather Elizabeth Moore, Faegre Drinker Biddle & Reath LLP
A practical guide to honing your grantmaking effectiveness in the fraternal foundation industry.
General Fundraising Series
Chapter Giving Support and Strategy | WATCH
Sarah Rayman, Chapter Giving Coordinator, and Crista Vasina, Senior Director of Development, Alpha Phi Foundation
Supporting our chapters before, during and after the COVID-19 pandemic.
Saying Thank You Stands the Test of Time | WATCH
Beth Asher, Programs & Operations Manager; Lesley F. Miller, Annual Fund & Communications Manager; Brian Hoffman, Cultivation & Stewardship Manager, Zeta Beta Tau Foundation
The Zeta Beta Tau Foundation recently found a treasure trove of past scholarship recipient thank you letters. Join them to hear about their plans to turn these into a cultivation opportunity.
Planned Giving Series
Planned Giving 101 | WATCH (Access Password: FFE2020PG101!)
Kelly Wesley Taylor, Co-Founder, Trek Advancement
Demystify the term "planned giving" by learning the language. This recorded session will provide an overview of planned giving vehicles and concepts to help gift officers speak the language of charitable gift planning with confidence! Kelly is passionate about breaking down the barriers and sharing the tools all development professionals need to talk with any donor in any giving conversation.
Learning objectives:
Provide a simple overview of terms and concepts
Provide cues, clues and questions via real world examples
Share personal passion for all things planned giving
Inspire professionals to capture the tremendous donor-centered fundraising opportunities that await
Virtual Engagement Series
Creating a Virtual Scholarship Reception | WATCH
Ashley Byrd, Executive Director, Alpha Omicron Pi Foundation
A virtual reception can be a good way to bring together scholarship donors and recipients. This session will provide tips and get you ready to plan your own virtual reception and arm you with ways to avoid potential pitfalls. | DOWNLOAD TIPSHEET
Thinking About Starting a Podcast? | WATCH
Faron Lewitt, Chief Executive Officer, and Jonathan Levin, Vice President of Development, Zeta Beta Tau Foundation
Launching a new podcast can be intimidating. This panel will help you decide if podcasting is the right medium for you and guiding you through everything you'll need to get started as you consider this method of reaching potential donors and stewarding major gifts.
Programs Series
Program Impact Reporting | WATCH
Mary Kate Smith, Programs Manager, Kappa Alpha Theta Foundation
Learn about how Theta Foundation communicates the positive impact of its scholarship and grant programs to stakeholders, including donors, fund contacts, members, and college and university officials! In this presentation, you will learn more about the annual publication Theta Foundation produces to convey program impact to these groups and how the publication has evolved from a simple recipient listing into a compelling impact piece. You'll come away with ideas that you can implement at your own organization right now!
VanGo: The Ultimate Kappa Roadtrip | WATCH

Kylie Towers Smith, Archivist/Museum Director, Kappa Kappa Gamma

Kappa Kappa Gamma's mobile museum, The Minnie Stewart Van, set off on the adventure of a lifetime in October 2019 to celebrate Kappa's 150th anniversary, and was going to finish in October 2020. Then COVID-19 hit. From the drawing board, to the highway, to virtual learning spaces – how we learned to be innovative, flexible, and still take history to the people.
Scholarships—A How To in Reverse | WATCH
Carol Johnson, Ed.D., Chief Development Officer of the Educational Foundation of Alpha Gamma Rho
In today's world, there are so many wonderful scholarship management tools and partners!  But, what if you operate a growing shop that currently manages around 20 national scholarships each year and the costs are not prohibitive?  Or maybe you operate a medium size shop with a great manual scholarship management process?  Possibly you run a large shop that has the best of the best softwares and apps generating thousands of national scholarships each year?  This How To in Reverse can benefit YOU!
Sometimes, we all need to take a step back and look at things differently to make sure we are doing our best work!  In fact, if we get to the end result and things are status quo, how will we ever be any better?  It is imperative that we evaluate our scholarship management annually to make sure we aren't missing something from the perspective of an applicant, a volunteer selection committee member, a staffer, or a donor!  We don't want to lose any of those links in the success chain!
NSPA Member Benefits

National Scholarship Providers Association | WATCH
This 30-minute webinar takes you on a deeper dive into the National Scholarship Providers Association, explain some of their member benefits, tour the NSPA website, and learn the ins and outs of membership.
"History to Die for": Staging a Murder Mystery Play to Share Kappa's Heritage | WATCH
Mary E. Osborne, Ph.D., Kappa Kappa Gamma Museum Specialist
Engaging visitors in a historic house museum can be challenging.  In November 2019, The Stewart House Museum, the birthplace of Kappa Kappa Gamma, staged a progressive murder mystery play based on original research.  The Stymied Stewarts of Monmouth by Stacy Post tells the story of Ada Mariner, an estranged member of the Stewart family. A Kappa from St. Lawrence University, Ada was a controversial figure. The audience immersed themselves in an episode from her life while following the actors throughout the 1865 Victorian home. Learn how Museum Specialist Mary Osborne took her research and turned it into something for the public to enjoy.