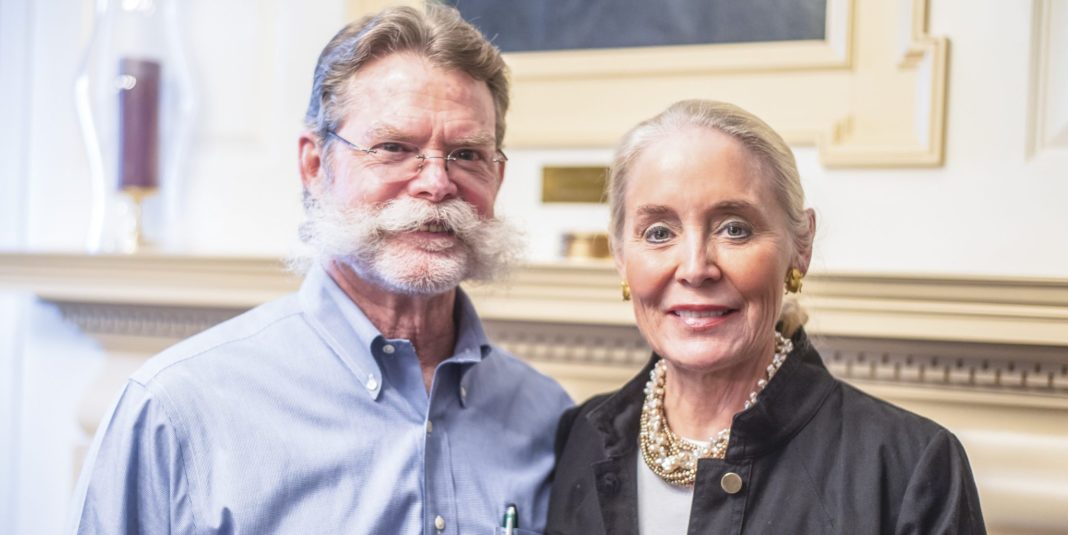 Indianapolis, July 12, 2018—Stephen "Tio" and Janell Kleberg of Kingsville, Texas, are 2018 recipients of the North-American Interfraternity Conference Foundation's (NICF) Outstanding Philanthropist Award in recognition of their lifetime generosity to the Phi Delta Theta Foundation.
Tio joined the Texas Epsilon Chapter of Phi Delta Theta at Texas Tech University where he met his wife Janell. They both served in the Army before embarking on a career of business and civic affairs in Kingsville. A rancher by trade, Tio's career has centered around the world-famous King Ranch of South Texas.
Tio began serving as a Phi Delta Theta Foundation Trustee in 2000; in 2009, he was named Chairman of the Foundation's "Building on the Bond" Capital Campaign. This laser-focused effort aimed to increase the Foundation's endowment from just above $5 million to more than $20 million by 2020. The Klebergs helped the campaign meet its goal two years ahead of schedule.
When Tio and Janell agreed to support the campaign, they made a pledge of $1 million—however, for the Foundation to receive the funds, $360,000 had to be raised to support five scholarships of $72,000 each. This creative pledge provided motivation to raise additional scholarship funds while securing the Klebergs' historic and transformational gift.
"Tio and Janell not only support us with their treasure, they volunteer a lot of time," said Robert A. Biggs, President & CEO of Phi Delta Theta Foundation. "Tio, along with the Chairman of the Board and two other trustees, 'barnstormed' around the country calling on major donor prospects." The group traveling the country to advance the Building the Bond fundraising effort was affectionately called "Tio's Rangers."
The Klebergs exercise their commitment to leadership and ethical development of young men in practice just as much as they do through their gifts. Phi Delta Theta hosts the Kleberg Emerging Leaders Institute at Miami University in Oxford, Ohio, each summer for its collegiate members. The Institute now attracts more than 1,000 emerging fraternity leaders annually, a 214 percent increase since 2010. Tio and Janell attend the conference and not only address the students in a general session, but are active participants in smaller breakout sessions, chapter meetings, and one-on-one conversations.
"They listen very carefully to the leadership concerns of the young men and offer them thoughtful guidance regarding opportunities for their leadership challenges," Biggs said. "They truly care about them and want them to become not just leaders in their chapters and campus communities, but later on to become ethical leaders in their professional careers and as husbands and fathers."
The Outstanding Philanthropist Award will be presented on Tuesday, Aug. 28, during the NICF Awards of Distinction Dinner, held in conjunction with The Foundations Seminar.
###
ABOUT THE FOUNDATION FOR FRATERNAL EXCELLENCE
The Foundation for Fraternal Excellence (FFE) cultivates a culture of philanthropy and care across the fraternal community. Often known as the "heart" of a fraternal organization, the FFE supports fraternal foundations and professionals as the foremost provider of programs, services and resources for fraternal fundraising. The FFE also offers scholarships to graduate students and professionals for continuing education, operational support for new and emerging fraternal foundations, and works hand-in-hand with fraternal communities and the North American Interfraternity Conference (NIC) to strengthen and improve the entire fraternity/sorority experience. Visit the FFE online at foundationfe.org or on Facebook and Twitter for more information.