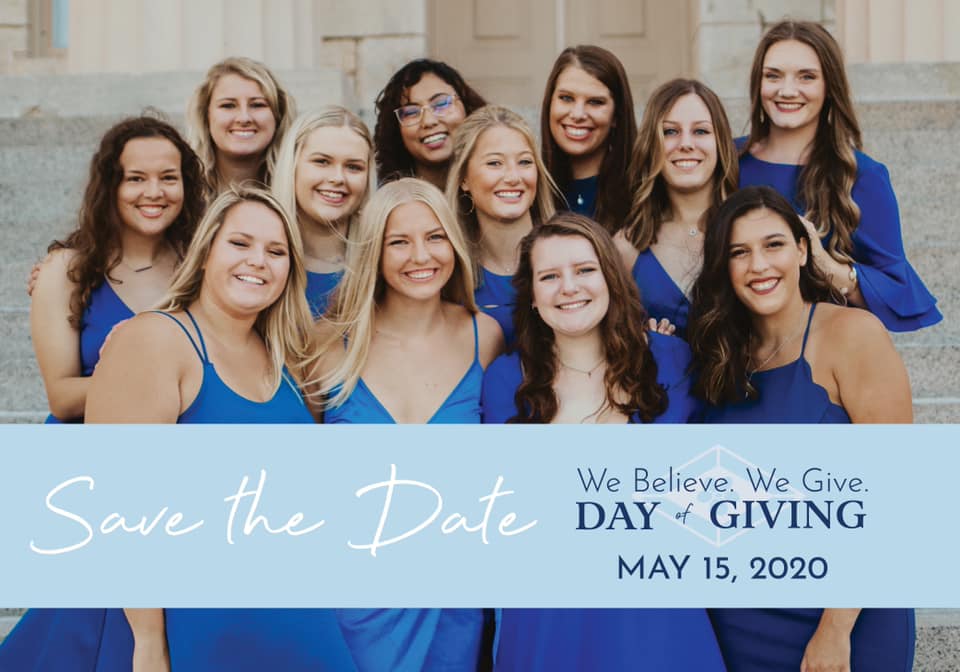 The COVID-19 pandemic created many concerns and questions for fraternal foundations that typically host spring Days of Giving. These member organizations recently shared with the Foundation for Fraternal Excellence an in-depth look at their thought processes and action steps as they navigated these challenges to ultimately host successful Days of Giving.
Tri Sigma
In their debut Day of Giving, the Tri Sigma foundation initially planned to embed on campus with a collegiate chapter on their April 20 Founders Day. Their focus was on supporting their Annual Fund with an original goal of $50,000.
In March, the organization realized they would need to adjust to an all virtual campaign – and they raised their goal to $65,000. Leadership focused on recruiting and supporting a large national ambassador team who were provided with a toolkit of information and graphics and asked to engage on social media for the Day of Giving. The ambassador team was carefully coached in advance of the day and also asked to provide feedback on the content the Tri Sigma team prepared to ensure messaging was sensitive and appropriate. Tri Sigma also launched a Moments that Matter messaging campaign using content from this team.
Ultimately, Tri Sigma reached more than 40 new donors and raised $75,000.
EXAMPLE: Ambassador Facebook Page
— Desiree Paulhamus, Director of Communications & Strategic Initiatives, dpaulhamus@trisigma.org
Pi Beta Phi
A commitment to storytelling and sharing the voices of sisters established a meaningful tone for the Pi Beta Phi Foundation's fifth Day of Giving. Leadership focused on giving non-financial strategies for members to get involved, such as asking them to share "What has Pi Phi given you?" Many donors stepped up organically, saying they wanted to pay it forward and increase their giving with the knowledge that others wouldn't be in a position to do so.
The foundation primarily looked to grow their unrestricted fund through the giving day. More than 600 donors engaged to raise $108,000.
Staff found great returns through video stewardship efforts, reaching out to each donor with a personalized video thanking them for their commitment.
— Jill Carrel, Director of Advancement, Pi Beta Phi Foundation
More from Members
Other member organizations also reported successful Day of Giving campaigns. If you wish to share results from your Day of Giving, email us!
FarmHouse
The day's theme of You Make FarmHouse Shine was part a broad engagement plan inclusive of many established Day of Giving techniques (such as challenges and member testimonials) but added a lens of caring exclusive to the pandemic such as Zoom calls with leadership, encouragement videos and messaging that ties back to the founding ideals of FarmHouse in times of difficulty.
FarmHouse reached its $115,000 goal on their Founders Day, April 15
Alpha Gamma Delta
Pivoted their planned messaging to promote a "Day of Caring" on March 26 that focused on raising funds for the member relief program and food distribution agencies.
More than 500 gifts totaled $105,000 in the efforts.
EXAMPLE: Watch the Alpha Gamma Delta message to donors about the change to Day of Caring.
Delta Tau Delta
Building on long-term success with Facebook Live streaming, Delta Tau Delta collected more than 600 gifts in its May 21 Day of Giving for over $180,000 raised. Through the COVID-19 pandemic, the fraternity has consistently used streaming and videos to communicate with members and promote brotherhood initiatives. Strategic planning leading up to One Day. One Delt. promoted widespread social media engagement and response to giving challenges.
Alpha Delta Pi
A remarkable 2,000 gifts marked the fifth annual We Believe. We Give. campaign a success. Alpha Delta Pi used peer to peer fundraising in a highly strategic manner, promoting matching gift challenges and admission to giving societies to grow their Annual Fund.
The campaign on May 16 raised $545,805.
Delta Upsilon
A $10,000 challenge match from a volunteer leader set up the Delta Upsilon Educational Foundation for success in their November Day of Giving. More than 230 new donors helped DUEF reach $78,000 raised on Founders Day. The organization engaged an ambassador team with careful coaching, including webinars on how to overcome concerns about asking friends for money and how to engage on social media.
Alpha Phi
Over a period of 18 hours on Oct. 10, Founders Day, Alpha Phi raised more than $150,000 in one of their most successful giving days to date. 950 donors made more than 1,000 gifts to support the organization's endowments for leadership and women's heart health as well as a number of chapter scholarship and chapter leadership funds.
EXAMPLE: See the impact statement sent to members just after the Day of Giving.