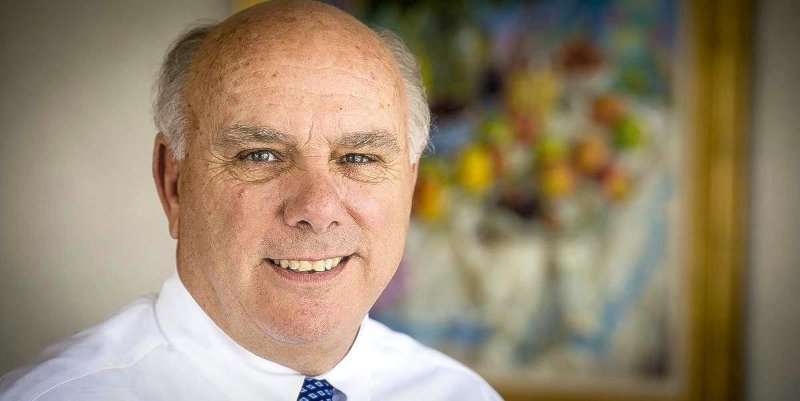 Indianapolis, July 12, 2018—Thomas D. Cassady is the 2018 recipient of the North-American Interfraternity Conference Foundation's (NICF) Outstanding Volunteer Award in recognition of his service to the Beta Theta Pi Foundation.
Cassady joined Beta Theta Pi at University of Cincinnati. Since his graduation in 1976, he has volunteered for both the Beta Theta Pi Foundation and Fraternity in various leadership roles with significant impact on the success of the organization and its programs. In 2012, he became co-chairman of Beta Theta Pi's "Promises to Keep" Campaign to raise funds for the Men of Principle initiative, a membership education program designed to reshape the way men learn about Beta Theta Pi and what they experience during the process of joining the fraternity. In 2016, as the campaign came to a close Cassady helped lead the effort to a resounding victory by surpassing its $20 million goal.
"Undergirding the Men of Principle initiative have been remarkable leadership educational opportunities to help undergraduates offer constructive influence on their campuses," said former U.S. Senator and Beta Theta Pi alumnus Richard Lugar, who serves as the spokesperson for Men of Principle. "I witnessed the extraordinary talents and dedication of Thomas Cassady in producing fundraising results that secured the continuance of this program."
Cassady served as co-chairman of Promises to Keep while continuing a legacy of service to Beta Theta Pi in other capacities. Professionally, he is a leader in the insurance industry as President and CEO of USI Midwest; with this experience, he has volunteered as the Insurance Commissioner of Beta Theta Pi since the inception of Beta's insurance program in 1988. Cassady is also a member of Beta Theta Pi's Advisory Council of past Foundation Directors and formerly served as a District Chief, Vice President, and General Secretary for Beta Theta Pi Fraternity. In 2005 he received the Francis W. Shepardson Award, the highest honor an individual can receive for a lifetime of service to the organization.
"Tom Cassady has excelled in every volunteer and professional role he has chosen because he is motivated to serve others," said Jonathan Brant, Beta Theta Pi Foundation Director. "In response to his service, the Fraternity established a named tribute to the Promises to Keep co-chairmen, forever telling Cassady's volunteer story at each Wooden Institute (five sessions annually) to motivate hundreds of undergraduate leaders. His leadership, commitment and Beta Spirit are second to none in Beta Theta Pi."
The Outstanding Volunteer Award will be presented on Tuesday, Aug. 28, during the NICF Awards of Distinction Dinner, held in conjunction with The Foundations Seminar.
###
ABOUT THE FOUNDATION FOR FRATERNAL EXCELLENCE
The Foundation for Fraternal Excellence (FFE) cultivates a culture of philanthropy and care across the fraternal community. Often known as the "heart" of a fraternal organization, the FFE supports fraternal foundations and professionals as the foremost provider of programs, services and resources for fraternal fundraising. The FFE also offers scholarships to graduate students and professionals for continuing education, operational support for new and emerging fraternal foundations, and works hand-in-hand with fraternal communities and the North American Interfraternity Conference (NIC) to strengthen and improve the entire fraternity/sorority experience. Visit the FFE online at foundationfe.org or on Facebook and Twitter for more information.