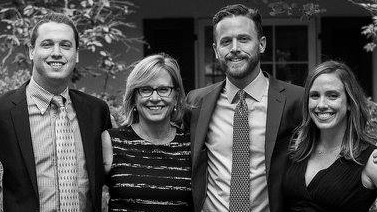 Indianapolis, July 10, 2019—Philanthropic and fraternal values are deeply rooted in the Clifford family, known for generosity, exceptional kindness and sincere friendship in their hometown of South Pasadena, California, and beyond.
Jan Kincaid Clifford and her children Katie, Michael and Brian are the 2019 recipients of the Foundation for Fraternal Excellence Outstanding Philanthropist Award in recognition of their generosity to Pi Beta Phi Fraternity for Women and many other organizations.
Jan Clifford has committed her resources to Pi Beta Phi as a servant leader for decades in volunteer roles that include two terms on the Foundation Board of Trustees and chair for the current record-setting SHINE THROUGH campaign. Her children have strong ties to the organization and a deep understanding of the mission of Pi Beta Phi.
The Clifford family has personally invested over $1.5 million in Pi Beta Phi, almost always in support of the area of greatest need – making possible literacy , leadership and educational programs to benefit the Fraternity, its membership and its philanthropic priorities. Jan's fearless optimism and belief in the loyalty of Pi Phis pushed the organization to complete a campaign three times the size of the initial dollar goal.
"Over the years, no one has connected more members back to Pi Phi and ultimately to fraternity service. She is a walking, talking, passionate elevator-speech for fraternity and sorority life and lifelong commitment," said Betsy West McCune, Director of Operations and Programs for the Pi Beta Phi Foundation. "This has helped create a sustainable pipeline of Foundation volunteers who are enthusiastic about and devoted to serving our members, our communities and our sisterhood. Donors see this and are eager to invest in the programs Jan and these volunteers lead and support."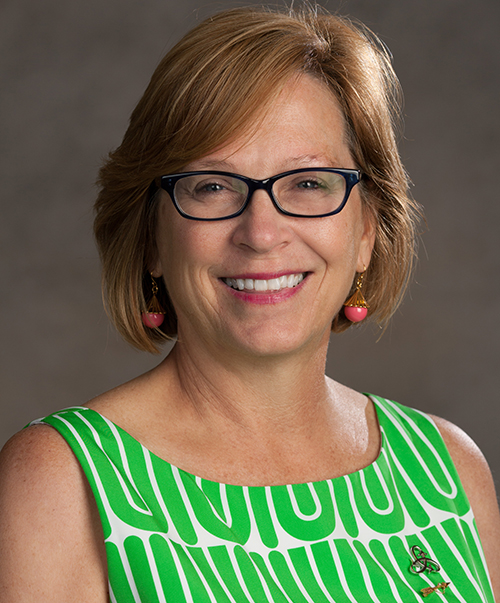 The family's generosity isn't limited to Pi Beta Pi. They volunteer with and contribute to dozens of charities in Southern California. Katie, Michael and Brian all support organizations they believe in with a commitment of service and financial resources. A native of East Chicago, Indiana, Jan joined Pi Beta Phi at Purdue University in 1975. Her career and family took her to many different parts of the country over the years, but Pi Beta Phi has remained an important part of her life.
"As her children grew, Jan began to believe that they should be part of her philanthropic decisions. Now, with the input of Katie, Michael and Brian, they are letting their philanthropy be a heartfelt and personal mission," said Vicki Laughlin McCluggage, President of the Kappa Alpha Theta Foundation. "Her love for Pi Beta Phi is clearly one of her deepest loyalties, and she has continued demonstrating her loyalty as an admirable leader and patron."
The Outstanding Philanthropist Award will be presented on Tuesday, Aug. 13, during the FFE Awards of Distinction Dinner, held in conjunction with FFE Seminar.
###
ABOUT THE FOUNDATION FOR FRATERNAL EXCELLENCE
The Foundation for Fraternal Excellence (FFE) cultivates a culture of philanthropy and care across the fraternal community. Often known as the "heart" of a fraternal organization, the FFE supports fraternal foundations and professionals as the foremost provider of programs, services and resources for fraternal fundraising. The FFE also offers scholarships to graduate students and professionals for continuing education, operational support for new and emerging fraternal foundations, and works hand-in-hand with fraternal communities and the North American Interfraternity Conference (NIC) to strengthen and improve the entire fraternity/sorority experience.