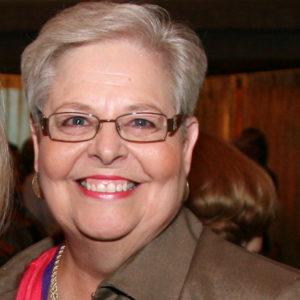 Indianapolis, July 10, 2019 — A talented, sincere volunteer fundraiser, Elisse Jones Freeman of Dallas, Texas, "gets it" — and she gives it back to others.
Freeman has been named a 2019 recipient of the Foundation for Fraternal Excellence Outstanding Volunteer Award in recognition of her generosity to Alpha Delta Pi Sorority. She has demonstrated a lifelong commitment to ADPi, serving as an advisor, province president, district team director and member of the Grand Council. She's served at the local level as an alumnae association president and an active member of her chapter's house corporation.
Freeman gives of her own time, resources and energy, including serving as a steering committee member for the successful $10 million We Believe Campaign in 2013-2016. Her dedication was so strong that her efforts resulted in an additional $150,000 in gifts being raised after the campaign ended.
A charter donor to the ADPi Foundation, Freeman made her first gift in 1983 when the foundation was established. She continues to give generously throughout the year – at calendar year-end, on the annual Day of Giving and through an ongoing monthly contribution.
"When I think about Elisse's involvement with the Alpha Delta Pi Foundation, I can honestly say that she has been one of the most passionate ambassadors that our Foundation has ever had working on our behalf, without ever serving on our Board of Trustees," said Tracy L. Garner, President of the Alpha Delta Pi Foundation. "Not only did she graciously agree to serve on the We Believe Campaign Steering Committee, she was one of the first women to get involved, and she exceeded every expectation. Elisse believes deeply in our mission."
Though her own chapter at Southern Methodist University closed several years ago, she engages with sisters around the world, promoting the broader sisterhood and responding passionately when faced with difficult questions.
"It is easy to get excited about fundraising when around Elisse Freeman – her low-key, soft-spoken manner, along with her quiet confidence exude passion for Alpha Delta Pi and the experiences provided to so many women. She is truly a superstar in the volunteer ranks and an individual that every Greek organization would want on their team," said Mark R. Wilkison, Principal & Partner at Columns Fundraising, who worked with ADPi on the We Believe Campaign.
The Outstanding Volunteer Awards will be presented on Tuesday, Aug. 13, during the FFE Awards of Distinction Dinner, held in conjunction with FFE Seminar.
###
ABOUT THE FOUNDATION FOR FRATERNAL EXCELLENCE
The Foundation for Fraternal Excellence (FFE) cultivates a culture of philanthropy and care across the fraternal community. Often known as the "heart" of a fraternal organization, the FFE supports fraternal foundations and professionals as the foremost provider of programs, services and resources for fraternal fundraising. The FFE also offers scholarships to graduate students and professionals for continuing education, operational support for new and emerging fraternal foundations, and works hand-in-hand with fraternal communities and the North American Interfraternity Conference (NIC) to strengthen and improve the entire fraternity/sorority experience.