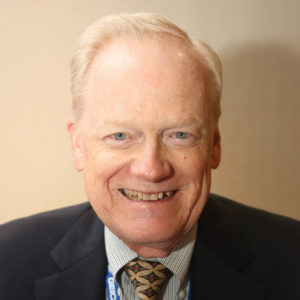 Indianapolis, July 30, 2019 — The long-term Chairman of the Delta Upsilon Educational Foundation, Stephen K. Rowley, will bid farewell to his role this year with a long list of accomplishments and achievements that have improved the fraternal experience.
In recognition of his commitment and service, Rowley has been named a 2019 recipient of the Foundation for Fraternal Excellence Outstanding Volunteer Award.
His love for serving Delta Upsilon first began as an undergraduate Chapter President at Ohio University in the 1960s. Rowley's dedication to the Fraternity reached a new beginning, however, when he joined the Educational Foundation Board of Trustees in 1994.
His greatest accomplishments in his 22 years as Chairman include growing and strengthening the Foundation board and volunteers; expanding the partnership between the Fraternity and the Foundation, including merging the staffs of the entities; increasing the Annual Loyalty Fund by 100%; establishment of a permanent endowment; and a 380% increase in the Foundation's overall net assets.
"For more than two decades Steve has been the catalyst for moving the Delta Upsilon Educational Foundation ever upward and onward. This important progress would not have been possible without Steve's personal dedication and commitment," said Bruce S. Bailey, who has served as a Delta Upsilon Foundation Trustee since 1964.
Rowley is a retired business executive who specializes in strategic planning, direct marketing, sales, general management and business organization. He served as President and CEO of The Paragon Holdings Inc., from 1998 to 2005, and previously served in executive and marketing roles for several corporations.
Steve and his wife, Sharon, have been married for more than 50 years, and they have two adult children. The Rowleys currently live in Scottsdale, Arizona.
"Steve's humility, his quiet confidence, strong character and level-headed manner, have had an incalculably positive effect on the way the Foundation functions. It's no surprise that his tenure as Chairman spans two decades – a testament to his enduring popularity as a leader and a friend," said Richard M. Holland, former Foundation Trustee and Delta Upsilon Headquarters staffer.
The Outstanding Volunteer Awards will be presented on Tuesday, Aug. 13, during the FFE Awards of Distinction Dinner, held in conjunction with FFE Seminar.
###
ABOUT THE FOUNDATION FOR FRATERNAL EXCELLENCE
The Foundation for Fraternal Excellence (FFE) cultivates a culture of philanthropy and care across the fraternal community. Often known as the "heart" of a fraternal organization, the FFE supports fraternal foundations and professionals as the foremost provider of programs, services and resources for fraternal fundraising. The FFE also offers scholarships to graduate students and professionals for continuing education, operational support for new and emerging fraternal foundations, and works hand-in-hand with fraternal communities and the North American Interfraternity Conference (NIC) to strengthen and improve the entire fraternity/sorority experience.