Schedule
---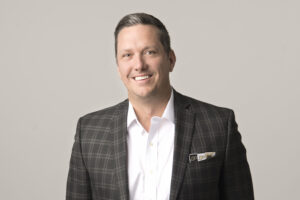 Meet Facilitator R. Ethan Braden
Executive Vice President, Chief Marketing and Communications Officer
Purdue University and Purdue Global
R. Ethan Braden serves as Executive Vice President and the chief marketing and communications officer at Purdue University and Purdue Global, reporting to President Mitch Daniels, the former two-term Governor of the State of Indiana and named one of the World's 50 Greatest Leaders by Fortune Magazine. Ranked as one of the Top Ten Most Innovative Schools in America by US News and World Report for five consecutive years, Ethan leads the system in the persistent pursuit of the next giant leap by passionately positioning, promoting and protecting the $3 billion Purdue University brand and portfolio worldwide.
In August 2022, Purdue University was voted America's No. 4 most trusted public university in Morning Consult's "Most Trusted Universities" study measuring how deeply the public currently trusts universities "to do the right thing."
In 2021, Fast Company Magazine selected Purdue University as one of its inaugural "Brands That Matter," a list honoring companies and organizations that authentically communicate their mission and ideals and give people compelling reasons to care about them, according to Fast Company editors. The only university and the only Indiana entity named a Brand That Matters, Purdue was selected alongside Nike, 3M, McDonald's, Ford, Yeti, and other large multinational conglomerates, small companies and nonprofits.
In 2020, the American Marketing Association recognized Ethan as 'Marketer of the Year' and Purdue University's central marketing and communications team as 'Team of the Year', both for higher education.
He has been featured in Fast Company magazine, the Washington Post, AdAge, The Hechinger Report, and The Morning Brew. Ethan has spoken at Google Marketing Live, Salesforce's Dreamforce conference and appeared on numerous podcasts related to brand management, leadership and higher education. Ethan teaches personal branding to student athletes in Purdue University's Optimizing Personal Brand and Image class, an innovative partnership between Purdue's School of Management and Purdue Athletics hatched due to NIL.
Previous to Purdue, Ethan worked for Eli Lilly & Company for over a decade where he served in a variety of senior marketing and sales leadership roles in the U.S. and globally, where he helped build, launch and manage some of Lilly's and the pharmaceutical industry's most successful and life-changing, billion-dollar brands including Cymbalta and Jardiance.
Ethan served on the Beta Theta Pi Administrative Staff from 2002 to 2005 and its Foundation Board of Directors from 2008 to 2014.
Ethan earned his MBA from the University of Notre Dame and his bachelor's degree from Willamette University (Salem, OR). Ethan lives in West Lafayette, Indiana, with his wife, Betsy, their son, Benjamin, their daughter, Margaret, and the couple has another son on the way.